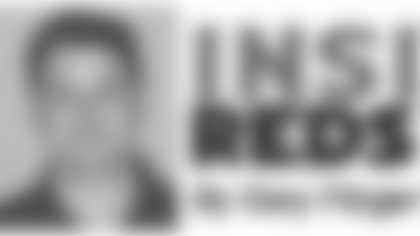 It's not always easy for an NFL player to catch on with a new team midseason.
So when DeAngelo Hall was released by the Oakland Raiders on Nov. 5, there was no guarantee he would finish out the season on an NFL roster.
Fortunately for Hall, cornerbacks are at a premium in the NFL. Especially two-time Pro Bowl cornerbacks.
Hall had several suitors and he signed a one-year deal with the Redskins on Nov. 9. It was basically an audition for a long-term deal--with the Redskins or for another NFL team--for the rest of the season.
Hall would go on to play in seven games, with four starts, for the Redskins. He finished with 25 tackles, two interceptions and seven passes defended.
Overall, Hall logged 73 tackles, a half-sack and five interceptions with the Raiders and Redskins.
A week before the regular season ended, Hall said that he hoped to re-sign with the Redskins.
"I do hope it works out here," he said. "I would not have come here if I thought it was just for seven games. I came here with the intent and the mindset that I was going to be here for a long time. That's the approach I've been taking."
Hall, 25, finished his fifth NFL season. Regarded as one of the league's most dynamic cornerbacks, he has 22 career interceptions.
He certainly brought play-making ability to Washington's defense. He had two interceptions--one off Tony Romo and the other off Eli Manning--in his first three games.
Was it enough to warrant a long-term future with the Redskins, the team he rooted for growing up in Chesapeake, Va.?
"They have to sit down and figure out if I'm what they want," Hall said. "They might say, 'Hey, he's a great player, but he might not fit in.' If that's the case, everything I've done from this point on is my audition tape."
He added: "This is not going to be about the money. I mean, you have to feel respected as far as what a team is offering, but at the same time it's going to be about winning and finding a team I'm comfortable with, a scheme I feel comfortable with. That's going to be the biggest factor for me."
The Redskins' secondary was a strong suit in 2008, finishing seventh overall in the NFL in passing yards allowed.
It was a deep unit, made deeper with the addition of Hall.
At cornerback, the Redskins had veterans Shawn Springs, Carlos Rogers and Fred Smoot on the roster, as well as rookie J.T. Tryon.
Hall emerged as the starter down the stretch, usually opposite Springs.
He sees a defensive backfield that, if it stays together, is in its prime.
"We didn't win as many games as I'd hoped, but I definitely see the chemistry and I see where the team is heading," he said. "I think it's straight up."
Hall began his NFL career as a first-round draft choice with the Atlanta Falcons. He earned Pro Bowl nods in 2005 and 2006. He was traded to the Raiders last offseason.