Throughout the 2009 regular season, the Redskins are putting a spotlight on a Hall of Fame player each week. This week: Charley Taylor:
Charley Taylor was one of those rare Redskins draft selections that remained an integral part of the organization throughout his playing career--and even beyond the day of his retirement.
Taylor played for the Redskins for his entire career, spending 13 seasons in the burgundy and gold.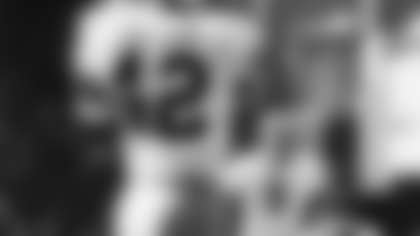 He was selected in the first round (third overall) of the 1964 NFL Draft and became the first rookie in 20 years to finish in the top 10 in both rushing (755 yards) and receiving (53 catches for 814 yards).
Taylor's 53 receptions were a record for running backs at that time and his efforts earned him the United Press International NFL-NFC Rookie of the year award.
Despite his skills as a runner, Taylor was shifted to split end in the seventh game of the 1966 season. He remained a prolific player for the Redskins' offense and led all NFL receivers in receptions in both 1966 and 1967.
With 79 career touchdown catches and 11 career rushing TDs, Taylor tallied 540 career points, good enough for third behind kickers Chip Lohmiller and Mark Moseley for most points in franchise history.
He remains the Redskins leader in career touchdowns with 90, leading John Riggins by five.
At the time of his retirement, Taylor was the NFL's all-time leading receiver with 649 catches for 9,110 yards and 79 touchdowns.
Taylor is in second place in Redskins franchise history for most career receptions, trailing only Art Monk who had 888 catches for the club.
Taylor was selected to the All NFL team once and the second-team All-NFL squad five times. He was chosen to the 1960s All-Decade Team and was inducted into the Pro Football Hall of Fame in 1984.
Following his playing career, Taylor worked as a scout for the Redskins with former teammate Bobby Mitchell, also a Hall of Famer.
When Joe Gibbs became Washington's head coach in 1981, Taylor was chosen to be the team's receiver coach where he served in that position through 1994.