Throughout the 2009 regular season, the Redskins are putting a spotlight on a Hall of Fame player each week. This week: Ray Flaherty:
As the first head coach of the Redskins, Ray Flaherty set the standard for Washington football.
He was hired as the head coach of the Boston Redskins (formerly the Boston Braves) in 1936 after the team managed a 2-8-1 record the previous season. Upon hearing the news that the team had signed end Wayne Milner in 1936, Flaherty emphasized to owner George Preston Marshall how important the move was.
"With that big Yankee playing end, please accept my resignation if we do not win the championship this year," Flaherty reportedly said.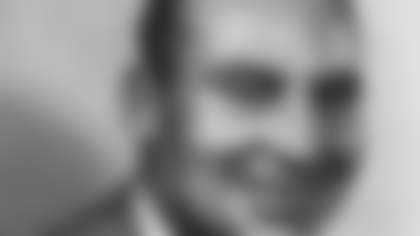 Though the Redskins ended up losing the NFL Championship 21-6 to the Green Bay Packers that year, Flaherty did not resign and remained the team's head coach for six more seasons.
In 1937, the Redskins franchise relocated to Washington where they saw immediate success with the addition of Hall of Fame quarterback Sammy Baugh. In a period dominated by the Chicago Bears, the Redskins were the spoilers as the team won two out of three NFL title games against Chicago.
As head coach of the Redskins franchise, Flaherty helped the organization win two NFL championships and four divisional titles.
Flaherty contributed two important innovations. In 1937, he introduced the behind-the-line screen pass which contributed to Sammy Baugh's three passing touchdowns en route to the organization's first NFL championship.
Later, Flaherty developed a version of the two-platoon system in which two units played on both sides of the ball as one group stressed the passing game while the other group moved the ball on the ground.
Flaherty's success in his seemingly short term with Washington set the precedent for success that Redskins fans still demand. Though he only coached the Redskins for seven seasons, Flaherty managed an impressive .712 winning percentage with a record of 47-16-3 in the NFL.
Flaherty was inducted into the Pro Football Hall of Fame in 1976, more than 30 years after his last season as an NFL head coach.