DeAngelo Hall isn't sure what to expect when he runs out onto the Georgia Dome--his home for four years--on Sunday.
Will fans boo? Will they cheer?
"I have no idea," Hall said this week. "I might get booed, I might get praised. But I hear there are still a couple of my jerseys out there in the stands."
Hall was chosen by the Atlanta Falcons as the eighth overall selection in the 2004 NFL Draft. During his time in Atlanta, Hall tallied 17 interceptions and two touchdowns, giving Falcons fans much to cheer about during his tenure there.
Now Hall plays for the Redskins, who take on the Falcons this Sunday at the Georgia Dome.
The Chesapeake, Va., native still has fond memories of playing for the Falcons.
"It's not going to be weird going back there," Hall said. "I'm not Brett Favre walking back into Lambeau. It's not that, you know. I was pretty good, but I'm not Brett Favre walking back into Lambeau.
"There's going to be definitely a lot of emotion tied into this thing. I saw a lot of those guys mature as players, you know? Mature as people on and off the field.
"[It's a] whole new coaching staff, so it's not like I know a ton of those guys. But it's going to be fun. That's the play where I started my career. You know, I definitely can't wait to just go out there and mix it up with 'em."
Hall helps lead a Redskins' defense that is tied for fourth overall in the NFL. They will take on an Atlanta team that has acquired quite a few new faces since his departure following the 2007 season.
There is one player on Atlanta's roster that Hall is very excited about matching up against--Roddy White, the Falcons' leading receiver.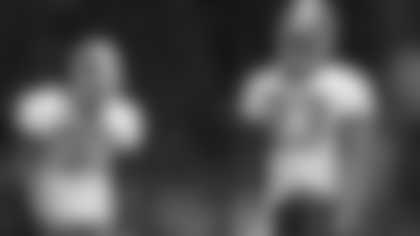 White was the Falcons' first-round selection the year after Hall entered the league and Hall considers himself a mentor to the explosive receiver.
White has posted back-to-back 1,000-yard receiving seasons. His 1,202 yards in '07 was the first 1,000-yard season by an Atlanta receiver since 1999. His 1,382 yards last year set a franchise record and earned him a trip to his first Pro Bowl.
"I feel like I raised him," Hall said. "I'm proud of him. I talk to him probably a couple of times a month just to make sure he's doing the things he needs to, to get better. But I'm proud of him and I can't wait to go against him."
This year, both Hall and White have had promising starts to their seasons.
White leads all Falcons receivers with 37 receptions for 534 yards and six touchdowns. Hall is the only Redskin player to grab an interception this season and only five players in the NFL have more than his three picks.
Beyond matching up against White, Hall said he didn't feel any extra incentive to get an interception in the Georgia Dome or against his former team.
"Not really, I just want to go out there and get the win," he said.
Does he think the Falcons will target him?
"I hope so," Hall said. "If they're coming after me, I can live with that. A chance for me to try to make a play, help us win? I can live with that all day. I hope they do."