For decades, Chris Hanburger went unrecognized for his accomplishments as a Redskins linebacker from 1965-78.
That changed on Saturday evening when he was selected for induction into the Pro Football Hall of Fame.
Hanburger was a standout linebacker for the Redskins from 1965-78 and earned nine Pro Bowl berths, a franchise record.
He earned first-team All-NFL acclaim four times from 1972-76 and was also named All-Eastern Conference in 1968-69 and All-NFC six times from 1970-76.
"I am overwhelmed," Hanburger said in a telephone interview on NFL Network shortly after the announcement. "It's such a tremendous honor to just be nominated let alone be voted in. You have to think of all the men that played before I did and all of the men that I played with.
"It's just a select few that make it and I think the only reason it's happened to me is that I had the fortune to play with a Redskins defense that had some wonderful people over the years that just made it all work for me."
Hanburger, 69, earned induction as a senior nominee.
He waited 32 years for induction, but it wasn't something he considered necessary for his legacy.
"In all truthfulness, it has never been on my mind," he said.
As part of Hall of Fame festivities this weekend, Hanburger is scheduled to travel to Dallas – on Redskins owner Daniel M. Snyder's personal plane , the team has announced – for Sunday's Super Bowl where he will participate in a pre-game ceremony.
In the last four years, the Redskins have had great success in terms of long overdue candidates earning induction into the Hall of Fame.
In 2008, Art Monk and Darrell Green were inducted into the Hall of Fame and last year Russ Grimm was inducted.
Hanburger joined the Redskins as an 18th-round draft pick in the 1965 NFL Draft.
He emerged as a defensive leader through most of the 1970s under head coach George Allen. He helped guide the Redskins to a Super Bowl VII berth in 1972.
His 14 years as a Redskin ties him for the third-longest tenure of service in franchise history.
Overall, Hanburger played in 187 career games, with 149 starts, and recorded 19 career interceptions, two of which he returned for touchdowns. He also returned three fumbles for touchdowns in his career.
Said Redskins general manager Bruce Allen, son of George Allen: "Today's media applauds Peyton Manning and Tom Brady for being able to run the offense and audible and check. Well, Chris Hanburger did that in the 70s. He not only called [audibles] on his own, he had over 100 audibles each game that he had to manage.
"One of the reasons we were so successful was our defense, because Chris managed it no different than quarterbacks do today. That type of field general should be recognized for his contribution."
Hanburger was named one of the 70 Greatest Redskins to help commemorate the franchise's 70th anniversary in 2002.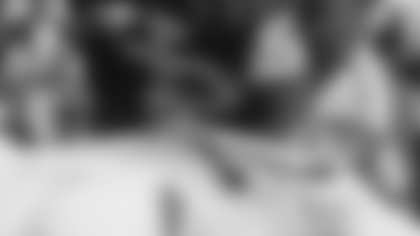 Hanburger was born in Fort Bragg, N.C., and played college football at North Carolina.
---
-- MORE REACTION TO HANBURGER'S SELECTION TO HALL OF FAME
"I am so happy for Chris. He was one of the era's most dominating players and is well deserving of this honor. Not only did he make nine Pro Bowls, Chris was the captain of the defense and was a true coach on the field. This is a great day for the entire Redskins' organization." -- Daniel M. Snyder, Redskins Owner
"He should have been inducted long before now based on him being named to the Pro Bowl nine times. That's a significant accomplishment. He was very quiet and that was kind of hard for him to do. I thought in most situations he allowed his performance to speak for him." -- Larry Brown, Redskins Running Back (1969-1976)
"Chris was not only the captain on defense, he called all of the defenses. He was capable of studying the game and was a master at that. Coach Allen would have never selected him as the captain, extending him that responsibility, so that by itself - his credentials, not only physically, being able to run as fast as he did and put himself in the right position. He understood the game of football and the game of angles. He was a real physical player. Chris was really a terrific athlete. He represented Washington, D.C. and the Redskins very well. I think it's significant. We should really be excited for the community that a guy like Chris would be put into the Hall of Fame because he has a lot of character along with being a great football player." -- Pat Fischer, Redskins Defensive Back (1968-1977)
"I was really excited because you take a guy that has been to nine Pro Bowls, waited all those years, and there have been opportunities which have past for him to be here. What can you say? It's the best thing that has ever happened. It is good for the Redskins, but also great for him and the guys who played with him. So, I would say, 'Welcome Chris.' Every moment was a great moment with Chris. He had such a command for the game, really heady, but he also had a very dry sense of humor. I think everybody looked forward to seeing that, especially the humor he had for George Allen. He was just a great guy to play with." -- Ken Houston, Redskins Safety (1973-1980)
"He was tremendous. He wasn't very big, but he was quick. When we needed to get the quarterback, I would call a blitz. I would come up the middle and he would come from the outside and we took that quarterback apart. He was one of the best blitzers that I think ever played the game. He deserves to be in the Hall of Fame because he had such great talent. He was coachable because he had so much great talent. He was a great player." -- Sam Huff, Redskins Linebacker (1964-1967, 1969)
"He was serious. There was not a lot of fun and games with Chris. He was serious about what he was doing. He was serious about his position. He was prepared every week. He prepared. He was involved with what defense they would play. That's what made him a great player because he worked at his profession." -- Sonny Jurgensen, Redskins Quarterback (1964-1974)
"I think this is a great moment. It shouldn't have taken this long. Chris was one of our great leaders on the team and one of our captains. He was a great player, very fast and he was one of those rare linebackers who had a lot of speed. He wasn't your typical large linebacker, but the way he played the game, you expected him to be there on every play. He was a student of the game, a great teammate and a friend." -- Brig Owens, Redskins Defensive Back (1966-1977)