What to expect from the Redskins' defense in 2010?
One thing is for sure: the defense will have a new look with Jim Haslett taking over as defensive coordinator this offseason.
Haslett, who replaced the now-retired Greg Blache, says the Redskins' defense will be aggressive and disciplined and put an emphasis on forcing turnovers.
Haslett, who is entering his 25th season coaching in the NFL, discussed the Redskins' defense in an exclusive interview with Larry Michael for "Inside the Redskins."
The interview is re-broadcast on the Feb. 19 edition of "Redskins Nation" on Comcast SportsNet and on Redskins.com.
"We're going to do a lot--a lot more than we've done in the past," Haslett said. "We have to be sound in what we're doing. More than anything, we're going to try to be a defense that gets some turnovers.
"We haven't had a lot of turnovers here the last two years. I think that's what wins games. You give the ball back to the offense. The more turnovers, the better."
Last year, the Redskins posted just 17 turnovers (11 interceptions, six fumble recoveries), the fewest among the NFL's 32 teams.
Haslett emphasized that no decision has been made whether he will employ a 4-3 or 3-4 defensive alignment.
The Redskins have typically used a 4-3 defense through the years.
Haslett acknowledged that a 3-4 is a consideration as he evaluates the Redskins' defensive personnel.
Asked generally about the benefits of a 3-4 defense, Haslett said: "The quarterback and the offense don't know where people are rushing from. It's a different look and it's hard to prepare for. The way you play it, it's hard to get a running game going, especially outside. So [offenses] are kind of limited on their runs.
"You have to have good players to run any defense, but I think a 3-4 would [take advantage] of players' skills, especially Brian Orakpo and even Andre Carter who was in it before [in San Francisco], but it was a little different. If we do it, he'll like what we're doing."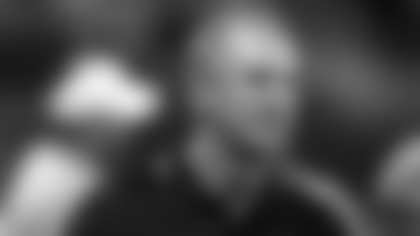 Haslett, who was head coach of the New Orleans Saints from 2000-05 and interim head coach of the St. Louis Rams in 2007, takes over a Redskins defense that finished last season ranked 10th in the NFL, 16th against the run and tied for 8th against the pass.
It's evident that Haslett has a solid foundation of players to work with, from Albert Haynesworth on the front lines to London Fletcher and Orakpo at linebacker and DeAngelo Hall in the secondary.
Haslett said Orakpo would continue to be used as a pass rusher in his defense.
"He's a unique talent," Haslett said. "He's powerful. He can run and he loves to play the game. He's a born leader. He has all those skills. And I think he's going to get better.
"He had 11 sacks, but he didn't [force] any turnovers, he didn't get any balls out. He's left-handed and we have to teach him to chop. He rushed [the quarterback] 400 times last season, I think if we can get him up to 800 times, the sky is the limit."
Orakpo and Fletcher represented the Redskins at the Pro Bowl last month.
Regarding Fletcher, Haslett said: "I flipped on the tape when I first got here and he's amazing. He hasn't really lost anything. He can run the field. He's athletic and instinctive. You can tell he's a born leader--he's out there directing everybody.
"I'm excited to work with him. I think he's going to like what we're doing [on defense]."
Haynesworth drew a lot of attention last season due to his mammoth presence on the defensive line and the huge free agent contract he signed with the club.
Haynesworth ended up playing in 12 games last season, posting 56 tackles and four sacks.
His ability to generate pressure up the middle of the defense aided pass rushers Orakpo and Carter, who each had 11 sacks.
Haslett suggested that a 6-6, 350-pound presence in the middle of his defense gives him plenty of options.
"I think [Haynesworth] is the kind of guy where you have to sit down with him and kind of explain to him what you're doing and where he fits in," Haslett said. "I think he's such a good athlete. I told him this the other day, 'Don't worry about what position you're playing, you could play the nose, you could play end, you could play linebacker.'
"He's a talented enough guy that he could probably do almost anything he wants. We'll put him in the best position, to take advantage of the best of his qualities, and obviously what's best for this football team. I think he would be scary if he was on a center or a weak guard."
Meet Jim Haslett