Put an Eagles feather in Jim Haslett's cap.
In Week 4, the Redskins' defensive coordinator devised a scheme to slow down the high-powered Philadelphia offense.
It was key to the Redskins' 17-12 win over the Eagles at Lincoln Financial Field.
Now the rematch against Philly is at hand and Haslett is faced with the task of sticking with what worked or devising a new scheme.
Haslett said he expects to "change things up" this Monday night when the Eagles come to FedExField.
"You can't stay complacent," Haslett said. "Andy [Reid] is a great coach and he and Marty [Mornhinwheg, offensive coordinator] will do a great job of figuring out what we were doing and combat it. In this business, there's always a little chess game."
In the first Redskins-Eagles game, Haslett put an emphasis on making sure explosive wide receivers DeSean Jackson and Jeremy Maclin did not have a big impact.
He had the secondary play some Cover 2 and make sure that receivers did not get past them.
Cornerbacks DeAngelo Hall and Carlos Rogers were tight in coverage, limiting Jackson to three catches for 19 yards and Maclin to just one catch for 15 yards.
Hall had five tackles and an interception (on a Hail Mary pass on the last play of the game), while Rogers had six tackles, a pass defended and a forced fumble. Even nickel cornerback Phillip Buchanon added three tackles.
Overall, the Redskins allowed 353 total yards to the Eagles, including 250 passing yards. They yielded just 12 points, the fewest the Eagles have posted in a game this season.
Quarterback Michael Vick, equally as explosive as Jackson and Maclin with his legs and his left arm, left that game in the first quarter with a rib injury.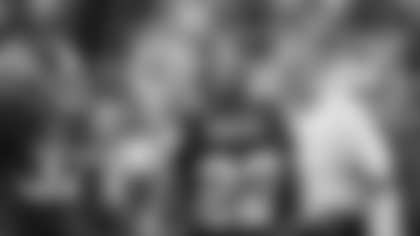 With Vick sidelined, backup Kevin Kolb was forced to check down to running back LeSean McCoy, who logged 12 catches for 110 yards.
"We changed after he went out, we did some things different based on the quarterback," Haslett said. "But I think both [Vick and Kolb] are really good football players. They're both efficient. Kolb is going to be a good player in the league and obviously Vick adds another dimension to the game."
It's Vick that the Redskins will face on Monday night. In five games this season, he has completed 60.8 percent of his passes for 1,017 yards, seven touchdowns and no interceptions. His QB rating is a career high 105.3.
Haslett counts at least six playmakers he has to account for against the Eagles, including McCoy, tight end Brent Celek and third wide receiver Jason Avant.
The Eagles go into the game with the NFL's fourth-ranked offense.
"You can't put two on everybody," Haslett said. "So you have to pick and choose throughout the game where you want to go with it. Hopefully we have enough of it that's right to be successful."