Albert Haynesworth passed his conditioning test on Saturday morning and participated in practice for the first time in training camp.
Haynesworth made a brief statement to reporters after signing autographs for fans.
"The test is over and now it's back to playing football," he said. "I want to thank all the fans for coming out, still supporting me, still wearing No. 92 jerseys, and still believing in me."
Head coach Mike Shanahan said that Haynesworth's sore knee had improved enough to allow him to complete the conditioning test and join teammates at practice.
"I think his knee felt better," Shanahan said. "In the last 10 practices and 10 days, he has been in rehab on the knee. He has been on the treadmill. He has been working extremely hard to get back into shape."
Asked about moving forward with Haynesworth, Shanahan replied: "It's an ongoing process. When a guy comes in, you've got to be in football shape. It doesn't happen right away. And for whatever reason, if it was his knee or if it was endurance, if you can't cut it's really hard to do football-related drills.
"I think if he would have practiced earlier, he might have set himself back. Hopefully there aren't any setbacks and he is ready to go full speed ahead."
Early Saturday morning, news reports circulated that Haynesworth had passed the conditioning test. Inside Redskins Park, there was no official confirmation, however.
About 15 minutes before players were due on the practice field on Saturday, a gauntlet of television cameras set up along the edge of the field to capture Haynesworth as he walked onto the field.
As Haynesworth walked to the practice field on Saturday morning, his No. 92 jersey was rolled up to reveal full pads. He was also carrying his helmet.
Haynesworth headed to the practice field alongside Phillip Daniels and Adam Carriker. Amid cheers for Haynesworth, one fan shouted, "Way to go Albert! Way to go!"
Haynesworth participated in drills with defensive linemen but he did not join in any 11-on-11 action. He was expected to start as a second-team nose tackle, but eventually learn and play every position on the defensive line.
"He will be with the [second team]," Shanahan said. "He will be playing the nose position with the second group."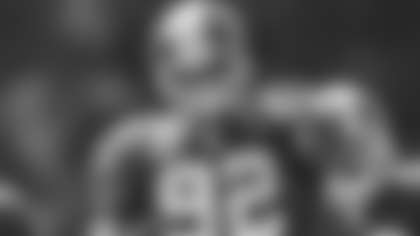 About midway through practice, Haynesworth took off his helmet and donned a baseball cap. Athletic trainers put some tape around his knee to keep any swelling down.
Haynesworth's day on the practice field was done.
Haynesworth's return to practice -- albeit on a limited basis -- ended 10 days of training camp drama.
He missed all off-season work, including a mandatory June mini-camp, disappointing many of his teammates.
He reportedly asked to be traded prior to training camp, saying that he did not want to play in the Redskins' new 3-4 defense.
Once Haynesworth reported to training camp, he was held out of practice after not being able to pass the team's conditioning test.
Then Haynesworth was slowed by a sore knee. The injury prohibited him from taking the conditioning test for the last four days.
He had an MRI on the knee on Thursday and the results indicated no significant injury.
Shanahan said he hoped Haynesworth would look at the drama of the last 10 days as a positive.
"I hope he understands that, 'Hey, what we're trying to do is the best thing for our football team, which is the best thing for him,'" he said.
Asked how he would describe his relationship with Haynesworth, Shanahan replied succinctly: "I haven't really had the chance to spend a lot of time with him. He probably doesn't like me very much right now. But I'm not here to be liked. I'm here to get him to play, and hopefully he will play at very high level."
After Saturday's practice, Haynesworth joined the entire Redskins team in signing autographs as part of Fan Appreciation Day.
With a gallery of television cameras behind him, he posed for a series of photos with fans.
"I feel like a movie star," Haynesworth told the fans.