Before Sunday, Clinton Portis's last carry in an NFL game was Nov. 12, 2006. His season came to an end that day when he fractured his hand in a game at Philadelphia.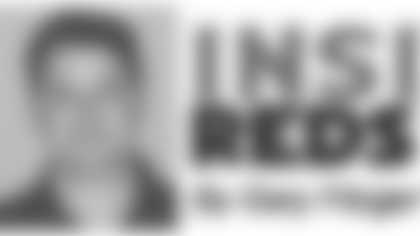 Ten months later, Portis made his return to the Redskins in style. In the Redskins' 16-13 win over the Miami Dolphins, he had 17 rushes for 98 yards, an impressive 5.8 yards-per-carry average, and logged a 19-yard touchdown run.
It was the Redskins' only touchdown of the game. He took a handoff rolled left, then slipped past strong blocks by left tackle Chris Samuels and tight end Chris Cooley at the line of scrimmage.
Downfield, Antwaan Randle El and Mike Sellers blocked out a pair of defensive backs, allowing Portis to weave past tacklers and make his way into the end zone.
Portis capped the score with a short end zone dance, and then he threw the football to his mother who was celebrating in the stands nearby.
"It was a great job by our line," Portis said. "And Randle El--he had a great performance receiving, but on that touchdown he was probably the key block. He kept his man outside and I got the opportunity to cut. Mike made it up inside, and I just followed him up in there."
Portis missed most of training camp and all four preseason games as he recovered from lingering tendonitis. He showed no ill effects early on, picking up 11 yards on the Redskins' first two offensive plays.
Late in the game, as the Dolphins' defense wore down, Portis joined Ladell Betts to form a powerful combination in the run game.
They combined for 30 yards on a fourth-quarter drive that resulted in a 44-yard field goal by Shaun Suisham.
On the game-winning drive, capped by a 39-yard field goal by Suisham, Portis and Betts combined for 46 rushing yards.
"I felt good," he said. "A lot of people might have thought I was tired, but the way Chris Samuels and Pete Kendall marched downfield, and when you see Randle El continue to make play after play, and the linemen continue to block, you know that you have a team fighting together."
Portis did have to calm himself down, though.
"Early on, at the beginning of the game, I had to relax myself because I was so excited about being back on the field," he said. "In the first quarter, I missed a couple of reads from the excitement of trying to make the big play.
"I came in at halftime and talked with Ladell and he just told me to calm down, and I calmed down in the second-half and everything turned out alright."
Added Samuels: "A lot of people were wondering if Clinton was going to be ready and if he was going to stay healthy. He came out and played an excellent game."
Joe Gibbs praised Portis's performance after the game. He has always considered Portis one of the toughest players he has every coached--and that toughness was on display against the Dolphins.
"He got hit pretty good right in the first quarter and they padded his ribs--and I'll tell you what, he gave it all for all four quarters," Gibbs said. "I think he made some good plays in there without the ball in his hands. When Jason was running, he blocked a few times.
"For me, when you are out there, you have to look in a guy's eyes and you can kind of tell. And with this guy, he knows how this game is supposed to be played."
After the game, Portis refused to say he felt vindicated after his performance.
He was asked after the game if he felt like his play sent a message that he was back as an elite running back.
"I'm not trying to send a message to anybody," he replied. "What I did today helped my team win, and that's what I want to continue to do week in and week out."