Isaac Gonzalez
Technology Services Specialist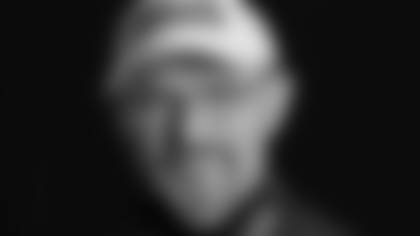 What's your favorite part about what you do at the Washington Commanders? 
My favorite part of working at the Commanders is being able to work with great individuals every day. From FedExField to Ashburn, it takes a village to do everything that needs doing. I see project after project come, and we all have remained steady completing them. This is my third season, and I have been encouraged to engage more within our organization. Doing so, I am now a Co-Chair for our SOMOS employee resource group. This position has allowed me to get to know more people involved with great initiatives making a huge difference in people's lives. The work we are doing matters, and we are the change that kids and our communities need. I value how our players, coaches and staff get involved and partner with our military, cancer survivors and caregivers, and so many other communities. 
What inspires you to come to work each day? 
My wife Julie is the reason I come to work each day. She is a breast cancer survivor and without a doubt my inspiration. The "C" word came to my house ten years ago and forever changed my family and I. We opted for a bilateral mastectomy with tissue flap reconstructive surgery. We convinced ourselves that this was the best option and we wanted her (Julie) to be around to see our kids grow up. My girls were 2 and 4 at the time. I remember how gentle my little babies were with their mom as we helped take care of her during her recovery from surgery. My wife was also at ground zero during the 9/11 attacks. Yes, my wife is a tough cookie. The scars my wife carries are badges of honor that remind me how blessed I am to have her in my life. I have come to know the word cancer very well, and I love all the initiatives the NFL and Commanders are involved with.  
What's a work-related accomplishment that you're really proud of? 
I worked with our IT team to clean and update some older iPads to donate to an elementary school in need. Our equipment department also donated 25 used footballs that players practice with. I worked with our Charitable Foundation to secure a $15,000.00 grant from the NFL Foundation. The equipment and the funds went to further our young kids' education. This project helps bridge the technical divide that exists in communities. Being there for the kids with our alumni and Commanders representatives to stand by their side made me feel proud. 
How has your heritage shaped who you are today? 
Hard work has always been at the forefront of all I do. My parents came to this country, worked really hard so that my siblings and I would have the opportunities that they did not have back in El Salvador. I reflect back and appreciate the work ethic that they instilled in me. Today at the age of 48 years I have a wonderful family and two beautiful girls that I hope follow in our footsteps. I always remind them they can accomplish anything they set their minds on as long as they work hard for it. 
What does Hispanic Heritage Month mean to you? 
As Hispanics we have so much pride in our culture. We come from so many different countries but have so much in common. Each country has their own uniqueness, but we can come together to celebrate those differences. Hispanic Heritage Month is about sharing our culture with each other but most importantly showing the world what we have to offer. There is so much I still need and want to learn about other countries and the people that make up our heritage. I look forward to learning and sharing the knowledge with my daughters so they too can be proud of their heritage. 
What quote or mantra do you live by? 
"Going back to my dad, he would always say, 'Attack the day.' No matter what the challenge was he would always say, 'You can do it, mi hijo.'" 
It's officially been a year since we've established Somos Commanders. In your opinion, what has been the most impactful program you all have hosted so far? 
The most impactful program we have hosted so far has been our Taste Around Latin America. There was a huge buzz around the facility this year! This event energizes our entire organization all throughout the day. It has been well received for the past two seasons. Everyone always participates in thanking our chefs and kitchen Staff for all the hard work they do. I enjoy seeing the entire facility have such a positive vibe about it. The new menu/dishes the kitchen was serving were a big hit. Everyone had a great time discovering which Latin American country the dishes came from. The hustle of the day with music, decoration, and smell of the food made everyone feel lively, making for a day everyone will remember for a long time.  
What type of impact do you hope to accomplish in year 2 as Somos leadership? Which program are you most excited for? 
For year 2 as Somos leadership I hope to work more closely with our ERG leaders and members to build on the work that has been done. We need to grow these relationships as we come together to celebrate our culture with employees and the communities we serve. I would like to have our ally and member participation grow. We need to increase our program participation/activations. I am confident that our SOMOS team will bring to life activations that appeal to our organization and are fun. I am excited and look forward to growing our brand.