Rosemary Lopez Campbell
Coordinator, Entertainment Production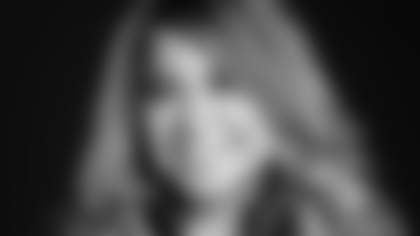 Time at the Commanders: 10 
What's your favorite part about what you do at the Washington Commanders? 
Being a full-time entertainment production coordinator has truly been a dream come true! My favorite part is waking up for gamedays and having that adrenaline feeling. All the hard work comes together on gamedays, and no matter how many times I have been to the stadium, it never gets old. You know you love what you do when you wake up at any time (literally) and get to work. My duties include booking live entertainment, management of various entertainment elements on gamedays and assistance with run-of-show coordination for different tentpole events on the NFL calendar.  
What inspires you to come to work each day? 
Looking at the stadium always gives me goosebumps because it is our home! Driving into the stadium every day inspires me. I remind myself that working in sports is a dream. 
What's a work-related accomplishment that you're really proud of? 
I am really proud of helping the team with the run-of-shows for non-gameday events. It's a new procedure our team has developed. I am confident that we will set the blueprint and succeed for many more years to come. 
What motivated you to want to join your ERG leadership team? 
As first-generation in my family, I never want to forget where my family came from. My parents were both born in El Salvador, and I am proud of my heritage. I want to keep our family legacy going by doing my part in being involved in SOMOS and giving back to the DMV as much as I can. The DMV is my home, and I am proud to be a fan and a staff member here! 
What is a current, past or future project or initiative from your ERG that has excited you? 
Our Second Annual Taste of Latin America event to kick off Hispanic Heritage Month was a hit once again! I loved tasting our delicious food and celebrating our heritage. I also loved our Hispanic Heritage celebrations at our October 5th game against the Chicago Bears during Thursday Night Football. Shout out to group sales for displaying all Latin American flags on the field during our national anthem. This was a big statement for SOMOS and all the Latinos in the DMV on a huge platform. 
What type of impact are you looking to have with your ERG? 
I hope to encourage more members to join SOMOS and give back to the community. Together we can accomplish our dreams and goals!