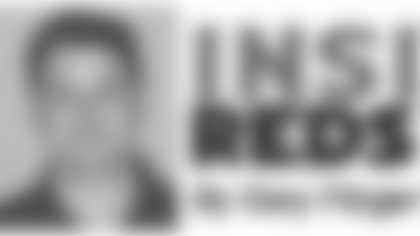 Jim Zorn has a bounce in his step this week.
Antwaan Randle El has noticed it. So have Rock Cartwright and Ryan Plackemeier.
Zorn makes his return to Seattle, the place where he established himself as an NFL quarterback and assistant coach for so many years.
He agrees it's going to be a "special" weekend in Seattle, but he doesn't want to make a big deal of his return.
First and foremost, he wants to coach the Redskins to a much-needed win over the Seahawks at Qwest Field.
He would be doing a disservice to his years of training in Seattle if he approached it any other way.
"Deep down inside, I know I have work to do," he said. "I have to look at it as the next test. I'm not going to walk around as though I am something super great. I am going to walk around as though we are going to do business."
Sunday's game is the first time that Zorn will be coaching on the visiting team's sidelines at Qwest Field.
"When I saw the schedule before the season, I laughed because it is so ironic," he said. "I thought [NFL commissioner] Roger Goodell put the thing together and said, 'Take that!' But in reality, we have to play every team in the NFC West, and this is part of it. I think it's pretty cool."
Obviously, Zorn maintains ties to the Seattle area, but he and his family live cross the country now, far away from the Pacific Northwest.
Zorn is a legend in Seattle.
His name is emblazoned up high on Qwest Field, as part of the Seahawks Ring of Honor. He is one of only eight players inducted into the franchise's Ring of Honor.
On Sunday, Zorn is to be inducted into the State of Washington Sports Hall of Fame, with a brief pre-game ceremony scheduled 15 minutes before kickoff at Qwest Field.
Zorn was the first-ever starting quarterback for the Seahawks franchise in 1976 and he played there for nine seasons. A high-tempo, mobile quarterback, he established franchise records in passes thrown, passing yards, attempts and touchdowns. (The marks have since been surpassed.)
Zorn was also Seattle's quarterback for the first-ever Redskins-Seahawks matchup in 1976. He completed 9-of-20 passes for 128 yards and one touchdown in a game the Redskins won 31-7 at RFK Stadium.
Overall, Zorn played three times against the Redskins. He was 36-of-79 for 455 yards, two touchdowns and five interceptions.
After his playing days, Zorn returned to the Seahawks franchise in 2001 to serve as quarterbacks coach under Mike Holmgren. He helped develop the skills of quarterback Matt Hasselbeck, a three-time Pro Bowler.
Zorn was named the Redskins' offensive coordinator last January. A few weeks later, as the Redskins' head coaching search entered its fifth week, team officials turned to Zorn for the top job.
He wasn't about to pass up the promotion of a lifetime.
Since then, Zorn has gradually started to put his stamp on the Redskins as he transforms the offense into the West Coast system used by Seattle.
He has said that he hopes to coach in Washington, D.C., for 10 years.
Of Sunday's game, Randle El said: "I hope he can contain himself. He's already excited. He's a little jumpy. You can tell in his movements. He has a little extra emotion."
Added Blache: "He's excited about it. There's a little more of a twinkle in his eyes. He has been very helpful, because he has the knowledge of [the Seahawks] on and off the field, much more than any of the rest of us do."
With his upbeat demeanor and positive attitude to football and life, Zorn has made a good first impression in Washington, D.C.
His approach is something the football fans of Seattle have known for decades.
"Jim is a very, very popular man here," Holmgren said this week. "It has to be special for him and his family to come back here. I hope it's not too special for him--we're going to compete like crazy. It'll be good to see him, and I wish him well--after Sunday."
Holmgren, who has coached 23 years in the NFL, is more than familiar with what Zorn is experiencing this week. He has had NFL coaching stops at San Francisco, Green Bay and Seattle in his career.
"Any time you go back and play against the team you were with, there's a little extra zip," Holmgren said. "For me, that was always the case when I went back to coach against San Francisco or Green Bay. If I was coaching against Andy Reid or Steve Mariucci or Jon Gruden, there was a little extra in it.
"It's kind of like playing against your brother in a pick-up game. You love him, but after the hugs, it's 'Let's get it going.'"
Zorn admitted it felt a "little ominous" competing against a coach the caliber of Holmgren, someone he has great respect for.
"I am not going to scare Mike at all," Zorn said. "He has done this before. This is nothing new for him. He is very confident in what he is going to be putting on the field."
Regarding his induction into the Washington State Sports Hall of Fame, Zorn won't be able to participate in the ceremony as he gets his team ready for the Seahawks.
Call it the unofficial end of a chapter in Zorn's career.
"It's a true honor to be recognized as somebody who has made an impact in that area and I am excited for that," Zorn said. "I have business to take care of, though. It's nice this is being done, I am just sorry that I can't participate in a way that I think the award warrants."