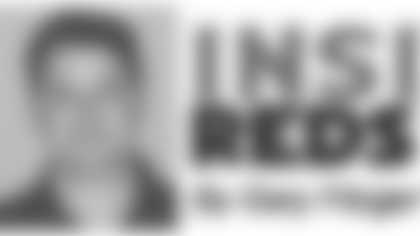 Chris Horton's first NFL lesson: every rep counts.
The rookie safety, the Redskins' seventh-round draft pick in last April's NFL Draft, does not want to pass up an opportunity to impress coaches.
During OTAs, Horton even grew impatient when a defensive teammate was off-sides on consecutive snaps, terminating the play.
Horton, a 6-1, 216-pounder out of UCLA, is eager to prove he belongs at the NFL level.
Nothing is guaranteed to seventh-round draft picks.
"My job every day is to come out here and work, show the coaches that I belong here," he said. "Everyone here is good and everyone comes out here and competes."
LaRon Landry is at the top of the depth chart at safety, with Reed Doughty and Stuart Schweigert competing for playing time. Vernon Fox is the primary backup and a special teams standout.
Horton will likely compete against sixth-round draft pick Kareem Moore for a reserve spot. Moore has been sidelined most of the offseason with a knee injury.
"We all know that this is the nature of the business--somebody is going to have to [be released]," Horton said. "As for me, I'm going to do my best every time I'm out there to show the coaches what I can do and how I can help this team."
Horton, who signed his rookie contract with Washington on June 13, played at UCLA under defensive coordinator and former Redskins secondary coach DeWayne Walker.
"I learned a lot from Coach Walker," Horton said.
Horton started every game the last two seasons at UCLA and finished his college career with 238 tackles (160 solo), three sacks, four interceptions and three forced fumbles.
Horton has noted two significant differences between the college game and the NFL.
The first difference is something every rookie experiences: the speed of the NFL game is much faster than college.
Horton has learned he must speed up the mental part of his game so that he can adjust to how quickly quarterbacks throw the ball and how fast wide receivers get open.
"Everyone is good at this level," he said. "There are no slackers here. Some guys are better than others, but everyone is good."
The second difference is the number of adjustments that defensive backs must make before the snap.
As time goes on and Horton earns more reps, he continues to see improvement in his game.
"Every time you're out there, with every rep, you're going to see the same formations over and over," he said. "So you take a mental note: 'Okay, this receiver ran that route...so if I see that formation again, maybe I'll get that [same] route. So you should do this to defend against it.' You learn as you go and in meetings.
"Or it could be, 'This receiver ran that route on you in a certain formation, but the offense might be in another formation and you still could get the same route again.'
"It's all a matter of preparation and, while you're out there, taking advantage of every rep."