A year ago, Jason Campbell was one game away from taking the reins of the Redskins' starting quarterback job.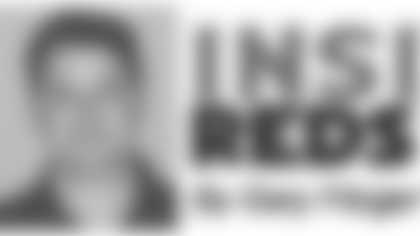 In the second week of November 2006, the Redskins were set to play the Philadelphia Eagles at Lincoln Financial Field. Mark Brunell was the starter.
After a 27-3 loss left the Redskins at 3-6, head coach Joe Gibbs made the decision to turn to Campbell.
Now, Campbell is set to make his 16th NFL start this Sunday--that's one full season for the Redskins' 2005 first-round draft pick.
The year has gone by fast for Campbell, who has been steady in his development.
"I have learned a lot and I continue to learn a lot, but it's a growth process," Campbell said this week. "Of course you're playing, but you have a lot of expectations out of yourself that you want to try and reach. So I continue to try each week to grow and continue to get better."
Campbell's stats for 15 games as a starter: he has completed 243-of-434 passes for 2,817 yards, 16 touchdowns and 13 interceptions.
This year, he has completed 133-of-227 passes for 1,520 yards, six touchdowns and seven interceptions.
His completion percentage in seven starts in 2006 was 53.1. This year, it's a 58.6 percent clip.
That's a sure sign of improvement, understanding the Redskins' offense and growing acclimated to NFL defenses.
"Overall, I think what helped me out this season was having the whole offseason to prepare myself, to get in there and take snaps with the first-team players," he said. "That has been a big difference this season."
But there remains room for improvement. His QB rating this year is 74.8, which ranks him 25th in the league.
He has not thrown a touchdown pass to a wide receiver this season. Five of his TD passes have gone to tight end Chris Cooley and one has gone to fullback Mike Sellers.
The offense has worked against plenty of Cover 2 defenses this season, so Campbell needs to be more accurate on deep passes. The Cover 2 scheme has often kept speed receivers Santana Moss and Antwaan Randle El from getting open on deep passes.
"We just have to figure out a way to beat [Cover 2] and continue to just work our progressions and move the ball down the field, whether you're hitting big pass plays or you're just hitting short passes," Campbell said.
"Sometimes short passes keep a drive going. The object is just to get the ball down the field and get it in the red zone for the opportunity to score touchdowns. Sometimes you just have to take what the defense gives you. You can't start trying to force the ball.
"You can't get frustrated because teams do that. You just have to stay within the system, stay within what you do best and just work the ball down the field."
Head coach Joe Gibbs has stressed balance in offensive play-calling with associate head coach-offense Al Saunders.
Even so, the Redskins have emphasized the ground game, with Clinton Portis rushing for 196 yards on 36 carries in last Sunday's comeback win over the New York Jets.
Some have suggested that coaches are cautious to let Campbell take more chances with downfield throws.
Gibbs disagreed with the notion when asked about it this week.
"We're probably about 53 percent run, if I had to guess," Gibbs said. "That's throwing it a lot when we have the ball. Our problem is, some games we haven't made a lot of first downs. When that happens, you don't have a lot of reps. We have been pretty much trying to get a balance in there and that means the quarterback has to make plays for you."
Campbell was asked whether he preferred a conservative game plan or a risk-taking approach.
He replied: "I like to take a lot of shots sometimes. I don't go out there and play the game to be timid or be scared to take shots. You look at Brett Favre--he has thrown a lot of touchdowns, but he also has a lot of interceptions. If he didn't take chances, he would miss out on a lot of great plays.
"I definitely try to take a lot of chances, sometimes just to give my guys opportunities to make plays."
Randle El has been the Redskins' big-play threat, with 27 catches for 479 yards, a team-high 17.7 yards per catch. Moss has 24 catches for 297 yards, a 12.4-yard average.
Cooley has been reliable as Campbell's third-down option; he has 27 catches for 277 yards.
Campbell has earned praise from teammates, who admire his quiet confidence.
"He has a lot of leadership," left tackle Chris Samuels said. "He'll stay in there and take a hit. He can use his legs as well as his arm. I think he's doing extremely well. I think there are a lot of things we can do to help him. We can play better. The receiver can play better. I think he's on course to be a great one."
Even as Campbell shows progress, he knows the goal is to win games.
In 15 starts, he has a 7-8 record. He can get to .500 with a victory this Sunday against Philadelphia at FedExField.
This year, the Redskins are 5-3 at the midway point of the season.
But two of their wins, against the Miami Dolphins and the Jets, have come on overtime field goals, and another was a 2-point victory over the Arizona Cardinals.
Winning ugly doesn't matter, Campbell said.
"The object of the NFL is to win--and it doesn't matter how you win," he said. "The whole goal is to go out there every Sunday and win. Some games are not going to be as pretty as others. If you can look up on Monday morning and you got a win, that's all that matters."