Sean Taylor showed tremendous growth as a father, a husband-to-be and a man, as every coach, teammate and friend attested this week.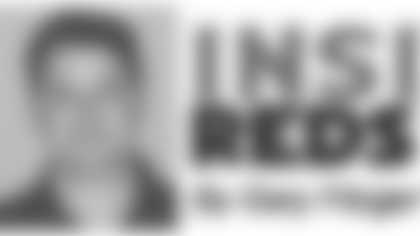 His career of choice was football player, though.
And, in one of the saddest moments of Tuesday's press conference at Redskins Park, head coach Joe Gibbs talked about Taylor's unlimited potential as a football player.
Taylor, as all football fans are aware, passed away on Tuesday morning in Miami from a gunshot wound.
"I think Sean felt like God made him to play football," Gibbs said. "When our guys don't like to go to practice, it's usually freezing cold out there, real muddy, and miserable. But I can remember Sean out there flying around, throwing his body around, leaving his feet, going after things.
"I think Sean was one of those guys that felt football is where he belongs. He had athletic arrogance about that. So for me, the things I remember is his excitement about playing and his love of competition.
"He was always talking to me about things like playing wide receiver--which we did put him over there even though the defensive coaches didn't want it. He loved and thrived on the competition part of [the game]."
Taylor was a legend on the football fields in South Florida, where he showed physical prowess at an early age.
Taylor is a product of Gulliver Academy in Miami. He helped lead his school to the Florida Class 2A State Championship as a senior in 2000, seeing time at running back, defensive back and linebacker. He rushed for 1,300 yards and a state-record 44 touchdowns on offense while tallying more than 100 tackles on defense.
He went to the University of Miami, where he played three seasons as a free safety and recorded 14 interceptions, 188 tackles, one sack and two blocked punts.
In 2003, Taylor was a unanimous All-America first-team selection and finalist for the Jim Thorpe Award, given annually to the nation's top defensive back. He was named first-team All-Big East Conference as well as Defensive Player of the Year.
The Redskins took notice, and drafted him in the first round (fifth overall) of the 2004 NFL Draft.
The press release the Redskins issued after drafting Taylor stated the following: "Touted as one of the most sought after players in this year's draft, Taylor brings a tremendous combination of size, speed and strength to the Redskins defense, as well as his well documented abilities as a playmaker and intimidator in the secondary."
Taylor lived up to that billing in four seasons with the Redskins.
He started almost immediately on the Redskins defense, earning respect for his hard-hitting play.
As a rookie, Taylor played in 15 games, with 13 starts, and recorded 89 tackles, second-best on the team. He had one sack and four interceptions.
He finished fourth in Defensive Rookie of the Year voting and was named a first alternate to the Pro Bowl.
Taylor earned his first and only Pro Bowl bid after the 2006 season in which he logged a team-high 129 tackles (89 solo), one interception and three forced fumbles.
This season, Taylor has played free safety opposite promising rookie LaRon Landry and led the team with five interceptions. He was sixth on the team in tackles with 46 (34 solo). He also had one forced fumble and eight passes defended.
For his career, Taylor has 344 tackles (245 solo), 12 interceptions, 41 passes defended and four forced fumbles.
"The sky was the limit for Sean," Gibbs said. "From what [assistant head coach-defense] Gregg Williams and the defensive coaches were telling me, he was here late at night studying film, which is one of the things a lot of guys don't like to do.
"He had completely changed. He made up his mind to be a vegetarian, he was losing weight, and actually that scared me a little bit because he was getting so thin. But he told me, ?This is the best thing for me.'
"What got cut short here was a career that would include a lot of Pro Bowls and a lot of fun. That's what we're going to miss."