For Clinton Portis, moving forward is sometimes a matter of taking a step back.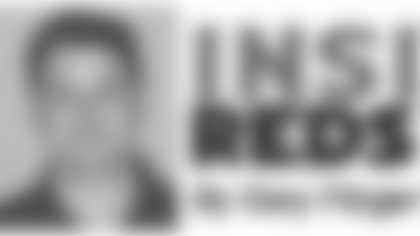 Early in the Redskins' 29-24 win over the New Orleans Saints on Sunday, Portis struggled for running room.
He went to the sidelines and asked Jim Zorn to line him up deeper in the backfield.
"Early on, I was too close into the line and I wasn't comfortable," Portis admitted. "I was missing reads early on, and I told Coach Zorn it was [my fault]. I told Coach Zorn that I had to move back."
In the new set, Portis started to pick up chunks of yards. He averaged 5.3 yards per carry after the first Redskins' first offensive series.
"Once I got back to my proper depth, things started opening up for me," Portis said. "The lanes were there, and the defense had to respect the passing game because Jason Campbell was playing well."
Portis finished the game with 21 carries for 96 yards and two touchdowns.
After a first half of field goals for the Redskins' offense, Portis got in the end zone on a brilliant run midway through the third quarter.
Portis took a handoff and raced around left end, following blocks by Chris Samuels and Chris Cooley. As Portis neared the goal line, he cut past a block by Mike Sellers to slip into the end zone for a 9-yard touchdown run.
Portis got in the end zone midway through the fourth quarter.
Campbell faked a pass and instead handed off to Portis on a draw play up the middle. Portis stepped left, made his way past blocks by Casey Rabach and Pete Kendall, and raced into the end zone for an 8-yard touchdown run.
"It was pure determination by the offense," Portis said. "We shouldn't have to put the field goal kicker out there. We shouldn't put it on [Shaun Suisham]. It is our fault we didn't score touchdowns in the first half. Every time we go out there, we want to score touchdowns."
Portis leads the Redskins' offense with 44 carries for 180 yards, a 4.1 yards-per-carry average. He also had two catches for three yards in the game.
With the two touchdowns, Portis has 36 in his five-year career as a Redskin. He moved past Larry Brown for fourth all-time in franchise history.