Quinton Ganther made his first NFL start one to remember.
And he did it in his hometown, too.
Ganther rushed for 50 yards on 14 carries, caught three passes for 43 yards and scored two touchdowns in the Redskins' 34-13 victory over the Oakland Raiders on Sunday.
Ganther was born in Oakland and grew up in nearby Richmond, Calif., so it was already a special occasion for the 5-9, 214-pound running back.
"You grow up as a kid and you want to play this game and play in this league," Ganther said after the game. "To get to do it in front of family and friends, it was awesome."
Ganther even drew some pre-game buzz on ESPN on Sunday morning when a fantasy expert suggested that Ganther would be a quality pickup.
His first big play came in the first quarter.
Faced with a 3rd-and-1 at the 32-yard line, Jason Campbell tossed a pass in the flat to Ganther, who burst past a tackler to pick up the first down. He cut left to get past another tackler and burst into open field. He was brought down by cornerback Chris Johnson after a 42-yard pickup.
The play set up Campbell's 6-yard touchdown pass to Fred Davis.
Late in the third quarter, Ganther got another drive going with a 12-yard and 10-yard scampers to move the offense into Raiders territory.
Ganther capped the drive with a 1-yard touchdown plunge behind Mike Williams and Stephon Heyer.
He also credited Todd Yoder, playing fullback for an injured Mike Sellers, with a key block allowing him to slip into the end zone.
"He had a good block for me," Ganther said.
After the score, his first in the NFL, he tossed the ball to his family in the stands.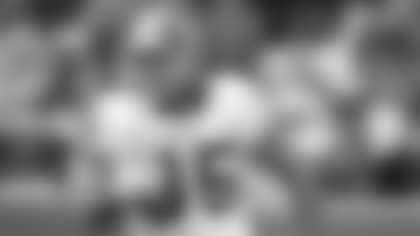 Ganther added another 1-yard touchdown run a few minutes later following LaRon Landry's interception. The score sealed the win for the Redskins.
In the days leading up to the Raiders game, Ganther downplayed his starting assignment. He referred to himself as a "utility player" and said it didn't matter how many carries he had during the game.
"I'm the type of running back who thrives on opportunities," he said. "However many carries I get, I have to make the best of them."
Ganther had the bulk of carries in the game. Marcus Mason had six carries for 32 yards and one catch for nine yards. Rock Cartwright had one catch for eight yards.
Ganther and Mason entered the game looking to establish themselves as NFL players--if not with the Redskins then with another team next year. They are both free agents following the season.
"I think they're all doing what they can to help our football team," head coach Jim Zorn said. "They're playing for our future and working on their careers. They are doing everything they can to lift up their careers."