For the third time in the last five years, the Redskins are installing a new offense.
There was Al Saunders and his 700-page playbook in 2006-07.
There was Jim Zorn and his version of the West Coast offense the last two years.
Now it's Kyle Shanahan's turn.
And in terms of teaching the offense, Shanahan is not holding anything back.
Shanahan, the son of Redskins head coach Mike Shanahan, is installing the offense all at once. Players have been asked to study the entire offensive playbook since they arrived for off-season workouts in March.
This is different from other coaches who teach the foundation of the offense first and then slowly expand the playbook.
Under Shanahan, players are learning pass routes, blocking assignments...everything.
The learning process continues this weekend as the Redskins gather for their second mini-camp.
"We're throwing it all at them," Kyle Shanahan said. "We're not holding anything back. We expect them to have it down by Week 1, and it's a process. You throw a ton at them and see what sticks. And then you throw a little more at them again and hopefully a little more sticks.
"If you keep doing that through training camp, and you're not seeing improvement each day, then you do pull off. But we're not going to pull off until we know we have to."
Shanahan's approach is intended to set expectations as well as challenge the players.
The mini-camps are invaluable because they allow coaches to evaluate how players can fit into and adapt within the scheme.
Until the first mini-camp in mid-April, coaches could only evaluate players on game film.
"It's tough when you watch tape of [a previous coaching staff]," Shanahan said. "You don't want to watch too much because you don't know what they're asking players to do. You're trying to watch the individual. When you watch the individual, you see talent. You see size. You see speed.
"Now we want to get them on the field. We know they're talented. Can they do what we're asking them to do? Hopefully by training camp they'll continue to grow."
Shanahan's offense has a foundation in West Coast principles, so the transition from Zorn's offense should not be a difficult one. The primary difference should be play concepts and play-calling.
The offense is expected to be run-focused, with Clinton Portis, Larry Johnson and Willie Parker on the roster, helping to set up the passing game of Donovan McNabb.
In the run game, the Redskins are expected to use a zone-blocking scheme. In basic terms, the scheme requires offensive linemen to have good mobility and sound technique as they open up running lanes.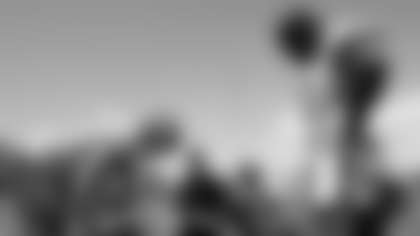 Mike Shanahan adopted the zone-blocking scheme as head coach in Denver and he rode it to a pair of Super Bowl championships in 1997-98.
Son Kyle is following in his father's footsteps.
"All 32 teams use the zone blocking scheme," Kyle Shanahan said. "I think the difference is in the commitment to it. We're going to commit to it. We're not going to do much else. We're committed to running the zone, getting guys moving, and I really think it's just what you emphasize."
Shanahan said he wants offensive linemen who have good size but are also fast.
That description would fit left tackle Trent Williams, the Redskins' first-round draft pick. Williams stands in at 6-5 and 314 pounds.
Shanahan said the addition of McNabb via trade in early April would not alter his scheme or how he installs the offense.
McNabb has 11 years of experience playing in the West Coast offense in Philadelphia, where he guided the Eagles to five NFC Championship games and an appearance in Super Bowl XXXIX.
"We put in the exact same system," Shanahan said. "I believe in a system [that allows] you to attack a defense every single way. Now we have things that I think Donovan will be better at than others. You want to play to his strengths, but as soon as you do that, defenses will stop it and you have to do some other things.
"So nothing changes. You might lean toward doing things more often that you would with a different quarterback under center, but when it comes down to it, if you want to be a good offense, you have to be able to do it all."