The Redskins made big plays but not small ones. Built a lead but failed to protect it. It would be unfair to say they folded in their 30-27 overtime loss on Sunday to the Houston Texans but they are definitely creased.
Outplayed at key junctures. Out-executed on the basics of kicking a field goal. Again treating the red zone like the dead zone.
Pick a moment in time and either a great play or a minor disaster defines it.
The Redskins, with a chance to start the season 2-0, trot off to St. Louis to play the winless Rams and become the NFL's darlings, watched a 17-point lead melt away and saw the Texans escape FedExField with their second consecutive victory.
"We left some points out there," Donovan McNabb said after passing for 426 yards and a touchdown.
"Mistakes at the wrong time, miscues that came back to haunt us," he said.
They are too numerous to list. They'd make more of a full-length film than a highlight reel. They erased stunning bursts of brilliance, of sharpness and purpose that could only lead any observer to start dreaming of a return to consistent excellence.
Time for your wake-up call. Cue the mistakes. Cue the miscues. They'll be ringing in the Redskins' ears in the morning.
Let's jump to the fourth quarter. The Texans have already cut a 27-10 lead to 27-20 but the Redskins can undo some of that damage. They're sitting third and one at the Houston 5-yard line. They've mixed run and pass to get there. A 14-point lead with less than seven minutes to play would at least allow a margin of error.
Then right tackle Jammal Brown committed a false start. The Redskins backed up five yards. McNabb's pass for Santana Moss failed, so the Redskins lined up to kick a 29-yard field goal.
Well, some of them lined up to execute that play. At least one did not. The blocking on the left side broke down and Graham Gano's 29-yard gimme got batted down by Bernard Pollard.
"Obviously it was a big play," head coach Mike Shanahan said.
The Texans tied the game just before the two-minute warning, with Andre Johnson winning a jump ball from safety Reed Doughty in the end zone for a 34-yard touchdown.
A physical mismatch? Sure. Allowing it on a fourth down and 10? Even worse. The Redskins didn't blitz Matt Schaub on the play and almost played it the safest possible way though there is no safe way to neutralize Johnson.
"We weren't in a pressure defense. It was man (to man) underneath, two deep safeties. They made a play," linebacker London Fletcher said. "There's not a lot of people I consider great football players. He's one of them."
Even after the Redskins lost the coin toss in overtime, they stopped the Texans. Gary Kubiak, in a coaching maneuver he could have regretted, gave up the chance at a 52-yard field goal and punted after having reached the Redskins 34.
Following a delay of game penalty, punter Matt Turk parked his kick in the end zone, negating the whole 'pin them back' philosophy.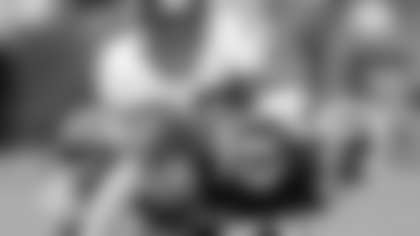 The Redskins got themselves in position to try a 52-yard field and Gano converted it ... but not before Kubiak called a time-out. The subsequent try sailed wide to the right. These are not happy signposts on the highway of life.
The signs became omens. The Texans failed to convert a third and nine but a penalty gave them an extra shot and they made it. Texans reserve tight end Joel Dreessen contributed his only catch of the day, for 28 yards, at the Redskins 18 to set in motion the end of the day.
Three plays later, the Texans did what the Redskins couldn't do (or did on two other occasions when they should have scored touchdowns) and kicked a field goal. Neil Rackers banged home a 35-yarder with 11:36 elapsed in overtime. End of story. What a story it might have been.
Ah, a 2-0 start, momentum, burgeoning confidence and a sense of how to put teams away, all of it floating away, wafting right out of the stadium, on a late summer evening breeze that sounded like the sighs of 88,240 fans.
"We were up the whole game and blew it at the end," safety LaRon Landry said.
That point could be argued. They just might not have been up by enough. The Redskins made four forays inside the Houston 20, scored a pair of touchdowns and a field goal.
The second field goal followed an interception by Carlos Rogers that he returned to the Houston 42. Even with that sort of field position, and after a 35-yard pass from McNabb to Cooley, the Redskins couldn't get in the end zone.
More points, more security.
A McNabb to Joey Galloway bomb that would have sealed the game in the fourth quarter just failed to connect … by not more than inches. The Texans tied it on the ensuing drive.
"Very frustrating," Galloway said. "We had our destiny in our hands and we didn't finish."
Despite the Rogers interception and five sacks by the Redskins, Schaub passed for 497 yards and three touchdowns. Johnson caught 12 passes for 158 yards and Kevin Walter snagged 11 for 144. The Redskins surrendered 526 total yards and 29 first downs.
Worse, rookie left tackle Trent Williams left late in the fourth quarter with an apparent knee injury. Shanahan said Williams would have an MRI and gave no further information but guard Artis Hicks seemed doubtful Williams would be available in the short term. The Redskins dressed only seven offensive linemen and used them all.
Just a week ago, against the Dallas Cowboys, they pulled a dagger from their hearts on the final play only to find no blood and no wound. A penalty nullified what could have been the winning touchdown and the Redskins prevailed.
Today, there's a deep cut. There's a loss where a win could be. There's a 1-1 record where 2-0 sat for the taking.
"That type of game is always tough to lose," Shanahan said. "You have some opportunities to put it away and you don't."
Instead, you get put away. And somehow you have to put it behind you.
---
Larry Weisman, an award-winning journalist during 25 years with USA TODAY, writes for Redskins.com and appears nightly on Redskins Nation on Comcast SportsNet. Read his Redskinsblitz blog at **Redskinsrule.com* and follow him on *Twitter.com/LarryWeisman*.*