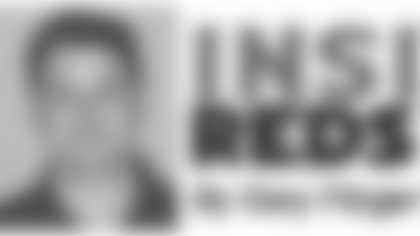 Jason Campbell has only to look across the field on Sunday--at Seattle Seahawks quarterback Matt Hasselbeck--to see what his future may hold.
Campbell is in his first year of the West Coast offense. Hasselbeck, who tutored under Redskins head coach Jim Zorn from 2001-07, has played in the system since he was a rookie in 1998.
Hasselbeck, a three-time Pro Bowler, has mastered the West Coast offense.
He is Seattle's all-time highest-rated passer with a career mark of 86.3 and he has set several franchise marks.
Campbell entered the season expecting a learning curve. He had played in the West Coast offense in his senior year at Auburn, so he had a foundation. But the NFL is a whole new ballgame.
"[Coach Zorn] told me that it would take a while, just like it took him a while with Matt to get things going the way they wanted," Campbell said. "As you learn the ins and outs of the West Coast offense, it's a matter of finding your own way in it so that you feel comfortable.
"Matt is a guy who started off slow in this offense, but when you look at him now, he has accomplished a lot. A lot of that has to do with the teachings of Coach Zorn and the relationship they had."
Campbell had to learn new footwork. He had to adjust how he holds the ball in the pocket. He had to adapt his throwing motion. He had to learn new terminology and new pass routes.
It was, in a sense, a quarterback makeover.
To get a head start, Campbell studied Hasselbeck closely last offseason.
"I watched a lot of film on Matt and the quarterback drills," Campbell said. "I watched how he reacted to certain looks, how he stepped up in the pocket and moved around."
The results have been positive. Better than expected, actually.
For the season, Campbell has completed 198-of-307 passes--a 64.5 completion percentage--for 2,122 yards, nine touchdowns and three interceptions.
His QB rating of 90.3 ranks him 11th in the NFL.
And Campbell has helped guide the Redskins to a 6-4 record. The team is in position for a playoff run in the second half of the season.
The question of how far apart Campbell and Hasselbeck are at this stage of their careers was brought up with Zorn this week.
Zorn pointed to command of the line of scrimmage as a primary difference.
"Matt has a complete awareness of what is going on at the line of scrimmage," Zorn said. "It's going to be hard for a defense to go in there and trick him. He is very verbal. He can manufacture drives and audible to get the offense into the right play."
And yet, Zorn sees signs that Campbell is improving in that part of the game.
From last Sunday's game against Dallas, Zorn pointed to two audibles at the line of scrimmage that aided the Redskins' offense.
One was a quarterback draw that allowed Campbell to run up the middle for 22 yards. The other was a sweep play to Clinton Portis that resulted in 20-yard run around right end.
"He had to call his own number on that QB draw," Zorn said. "He waited for it, he waited for it, and he got it. Some guys will just freeze in that situation--'I know it should happen, I know I should call it'--but they don't. Jason did.
"That's why we're continuing to improve. Jason is doing what we are preparing him to do."
Zorn is pleased with how fast Campbell has picked up the offense, but he is also the first to acknowledge that his signal-caller has a ways to go before he is an elite quarterback.
It could take several seasons before Campbell reaches that level--just like it did with Hasselbeck.
Seahawks head coach Mike Holmgren, a mentor for Zorn, agrees that the West Coast offense is reliant on steady quarterback play.
The hard part, Holmgren said this week, is mastering the discipline it takes to run the offense.
"[The quarterback] has to coordinate the drops with the length of the routes, and also coordinate the progression of how the patterns are supposed to go and how to read those patterns versus certain coverage," Holmgren said. "The West Coast offense has always been less matchup-oriented than other teams. It puts a lot of burden on the quarterback.
It's a burden that Campbell welcomes as he leads the Redskins into the stretch run--and beyond.