Super Bowl XLIV this Sunday between the Indianapolis Colts and New Orleans could come down to Peyton Manning vs. Gregg Williams.
Williams, the former Redskins assistant head coach-defense and current Saints defensive coordinator, made headlines last week when he said on a radio show that he hoped his defense could deliver some "remember me" hits on Manning.
"Here's the deal: when you put too much of that type of worry on a warrior's mind, he doesn't play all out," Williams said. "If [a penalty] happens, it happens. And the only thing you'd like for me to say is that if it happens, you hope he doesn't get back up and play again."
Those comments are nothing new to Redskins fans, who remember Williams as a brash, intimidating coach.
Of course, Redskins fans may also remember one other time when Manning--who has often been referred to as a coach on the field--faced off against Williams.
It was October 2006, and the Redskins were in Indianapolis.
With a 2-4 record, their season was teetering on the brink.
Up next? The undefeated Colts and Peyton Manning. At the RCA Dome.
That game, Williams was typically aggressive vs. Manning and the Colts' offense. The strategy was to hit the quarterback whenever possible, knocking him out of rhythm.
It worked in the first half, as Manning endured several hard hits.
Midway through the second quarter, Andre Carter and Phillip Daniels converged on Manning. Carter grabbed Manning by the waist and Daniels flung his arms around Manning's shoulder and neck, leveling a punishing hit.
Manning threw the ball just as he was hit by Carter and Daniels. He got up off the turf with an irritated look on his face. No flag was thrown, but Manning clearly thought Daniels' hit was a penalty.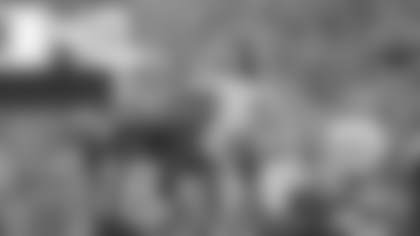 Pressuring Peyton Manning in
2006. (Getty Images)


Indianapolis had to call a time out just to settle Manning down and give him a breather.
The Colts settled for a field goal on that drive. And the Redskins went into halftime leading the Colts 14-13.
It was all over in the second half.
It took Manning four plays and 1:57 to guide the Colts to a touchdown, connecting with wide receiver Marvin Harrison on a 4-yard score.
Next drive, Manning connected with wide receiver Reggie Wayne on a 51-yard touchdown strike to cap another four-play, 1:57 drive.
Manning added a 1-yard touchdown pass to Harrison later in the third quarter. The Redskins found themselves down 33-14 heading into the fourth quarter and ended up losing 36-22.
Williams recalled the game during Super Bowl Media Day last Tuesday.
"We were really in the thick of it and all of a sudden, the first five minutes of the third quarter, it was 'Bam! Bam!'" Williams said. "They got nothing the rest of the game, but it was over with. That's how fast he can do damage."
Really, Williams knows no other way to disrupt Manning. He will be true to his word--and the past. He'll try to confuse Manning with a series of stunts, blitzes...anything.
If he makes Manning mad, as he did in October 2006, watch out.
Once Manning figures out a defense, he lights up the scoreboard.
The Redskins and Saints played in Week 13 last season, in a game the Redskins would have won if Shaun Suisham had been able to convert a 23-yard field goal late in the fourth quarter.
Instead, the Saints rallied to win 33-30 in overtime.
It was a miracle win for the Saints--who would not have had home-field advantage through the playoffs had they lost the game.
The Redskins racked up 455 total yards of offense and Jason Campbell had one of his best games of the season, completing 30-of-42 passes for 367 yards, three touchdowns and one interception.
He was not sacked once. And he was hit just three times by Saints defenders.
The Saints defense finished the 2009 season ranked 25th overall and 26th in pass defense. They were middle of the road in terms of sacks, recording 35.
These are not good signs as Williams and the Saints prepare for Manning.
The Saints' defense has relied on turnovers all season, posting 26 interceptions. They may not be able to rely on turnovers against Manning, who is usually smart with the football.
Says here the Colts get an early lead in Super Bowl XLIV and stay one step ahead of the Saints, winning 38-27 for their second championship in four years.