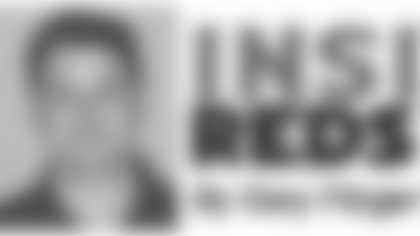 On Sunday afternoon, just 15 minutes after the Redskins lost to the Cincinnati Bengals 20-13, Jim Zorn was resolute.
He would "stand strong and firm" after the loss dropped the Redskins to 7-7.
A once-promising season was slipping away for Zorn and the Redskins. He remained focused on "building a foundation"--a phrase he has used several times over the last few weeks.
"I am frustrated, and believe me it is heartfelt," he said during his post-game press conference at Paul Brown Stadium. "I can sense all these emotions beginning to well up within me because things have not gone our way as of late. I am also objective enough to see that we do have a long way to go.
"I am confident enough in my abilities to stand strong and firm. That is what I am going to do."
Twenty-four hours later, Zorn was back at a podium, this time at Redskins Park for his regular Monday media session.
Early in his remarks, Zorn accepted responsibility for the team's performance.
"It's hard," he said. "I'm not sure I could ask any more of the players. I just keep asking them to give more and more. They really give it so much and it has been hard. At the beginning of the season, we asked so much of them and they responded well. I think in these last six games, I think we've asked a lot of them and they have responded well.
"I really feel like I have to look at myself. I gave the players the opportunity to stay away [from Redskins Park] on Monday. To me, I need to check my plan of attack. All of our staff--we need to reevaluate what we're doing to see if we're going in the right direction.
"I really believe we're building a good foundation, but certainly we need to get stronger across the board. And I certainly have to take--and I do take--the responsibility for some of these games that have not turned out like we had planned."
Zorn did not get into specifics of what coaches would reevaluate this week, but he emphasized that it would include game planning.
"We always ask our players to be very self-critical, so that's what I'm going to be to myself--just really criticize my overall coaching of this football team," he said. "Where do I need to improve, not only on Sunday but on Wednesdays and Mondays and every other day of the week?
"All of the things that go into game planning and attention to detail--those are things that we have to study."
Asked if the problem was scheme or if players were not responding to coaches, Zorn replied: "I think that's it--not responding to the specific coaching. We need to be more specific. We need to notch our game up as coaches, because we're not getting the win."
The Redskins' fall has been a surprising development in the second half of the NFL season.
Everything clicked for the Redskins in the months of September and October as the team jumped out to a 6-2 record.
Now the Redskins have lost four of their last five games to fall to the outskirts of the NFC playoff race.
Some have questioned whether Zorn, as a rookie head coach, is overburdened because he also calls offensive plays. The offense has slipped to 17th in the league after the Cincinnati game.
"If I am [overburdened], then I'm going to let that all take it's course as I try to figure some of these things out and why we're losing," Zorn said. "But I haven't felt overwhelmed calling plays, I haven't felt overwhelmed in speaking about Jason Campbell's game and trying to get him up to speed, and I think I've gotten pretty good response."
Meantime, the Redskins have two games left, starting with this Sunday's game against the Philadelphia Eagles at FedExField. They can still finish with a winning record, a reasonable accomplishment given the team's struggles.
Asked if some of the team's rookies and young players would start to get more playing time, Zorn replied: "I think they're already participating, and I think you can do some of that, but I'm not going to throw in the towel, ever, and we're going out to win. We're not necessarily going out to evaluate.
"I feel just sick that we started out so fast. I think about how the fans feel, how [the media] must feel, because of the progression that we started with. And then to run so flat. So I think we owe it to everybody to win, and however we have to get that done, we will."