How best to describe the relationship between Redskins cornerback Fred Smoot and former Redskins--now New Orleans Saints--assistant head coach-defense Gregg Williams?
With a 1980s movie reference, of course.
"It'll be that Mr. Miyagi, Karate Kid thing," Smoot said. "Like going against the teacher, you know?"
So when the undefeated Saints and Williams come to Washington to face the Redskins this Sunday, instead of thinking blitz packages and nickel coverage, Smoot will be thinking crane kicks and Cobra Kai.
This comes as no surprise from Smoot, one of the Redskins most colorful characters.
The ninth-year cornerback from Mississippi is in his second stint with the Redskins, lured back to town in 2007. He played for Williams in 2004 and 2007 and he considers him one of the NFL's most intelligent coaches.
"Gregg is a very, very smart guy and when I met him he took my whole knowledge part of football to a whole new level," Smoot said. "So I feel like I'm a genius when it comes to the game of football."
Middle linebacker London Fletcher played for Williams in Buffalo from 2002-03 and again in Washington in 2007.
Fletcher recalls that, on the field, Williams would often use colorful language to get his point across.
"When you think about Gregg, you think about, obviously, the mouth--the way he is able to articulate his feelings about certain situations," Fletcher said. "He's a guy who knows us well and knows our personnel on both sides of the ball. It'll be good to see him, but at the end of the day we want to beat him--and the Saints as well."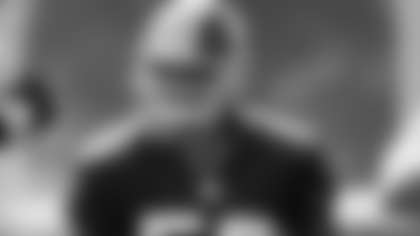 Williams spent four years with the Redskins as assistant head coach-defense under Joe Gibbs. From 2004-07, the Redskins ranked sixth in the NFL in defense (306.6 yards per game allowed), second in the NFC and seventh in rushing defense (103.8).
In January 2008, Williams was a candidate for the Redskins' head coaching job, but the team eventually hired Jim Zorn instead.
Do his former players think he might try to prove a point on Sunday against the Redskins?
"Gregg wants to stick it to every offense," Fletcher said. "Would he want to get ours a little bit more? Probably, considering everything that transpired with him a couple years ago.
"At the end of the day we know he's going to bring his exotic blitzes and his pressure packages. A lot of teams bring exotic blitzes and pressure packages. So it's something that we prepare for."
Added Smoot: "Well, I wouldn't say Gregg's a vindictive guy--but then I'd be lying. He's one of those coaches--he likes to look across the field at the opposing offensive coordinator and get at him, he's always been like that.
"I'm sure this is a game he'll get up for."
Last year, prior to New Orleans hiring Williams, the Redskins' offense exploded against the Saints, racking up more than 450 yards and scoring a season-high 29 points.
The defense was tenacious as well, holding quarterback Drew Brees and company to 250 yards of offense.
"Point blank, the Saints have the three things you need to win in this league: you need a good quarterback, you need a good defense, and you need just a lot of extra plays," Smoot said. "They have it all."
It has been an up-and-down year for Smoot, but he has worked himself back into the Redskins' defensive game plan. He is part of one of the No. 1 passing defense in the NFL, playing in a variety of roles including safety.
With the high-scoring Saints coming to town, Smoot knows the Redskins' defense will have to be at the top of its game.
"The big thing we're going to try to do is slow down Drew Brees," Smoot said. "You can't stop him, but we're going to try to slow him down and then [the Redskins' offense] can get a couple big plays on their defense."
Hopefully with no crane kicks required.