Rob Jackson was among the Redskins' bright spots in 2008 preseason.
The rookie defensive end started two of five preseason contests and posted two sacks and a forced fumble.
Once the regular season started, Jackson had to watch and learn from the sidelines.
He had to take a back seat to veterans Andre Carter, Jason Taylor, Demetric Evans and Chris Wilson.
As Jackson enters his second NFL season, he feels "a lot more comfortable" in the Redskins' defensive scheme.
He feels more ready for playing time--and he hopes it shows in off-season work.
"I'm able to recognize the looks an offense is giving me," he said. "I know what I have to do before the ball is snapped and I know what I have to do after the ball is snapped.
"I have a year under my belt, so I feel ready to take on a bigger role."
Jackson hopes his experience gives him an advantage over some of the other young defensive ends on the roster.
The position has had some roster churn this offseason.
Taylor was released, Evans departed via free agency and Wilson spent mini-camp learning the strong-side linebacker position.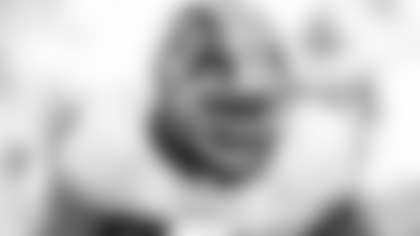 The Redskins drafted Brian Orakpo in the first round of the NFL Draft on April 25, but he could play some strong-side linebacker as well as defensive end.
Jackson hopes to stand out this offseason and earn playing time ahead of veterans Phillip Daniels and Renaldo Wynn.
"I'm just looking forward to playing right now, getting on the field and making an impact on the team," he said. "Last year, I could count the snaps I had on one hand."
Jackson has also been active on special teams, serving on punt coverage, punt return and field goal units.
The Redskins drafted Jackson in the seventh round (242nd overall) of the 2008 NFL Draft.
At Kansas State, Jackson totaled 61 tackles and 6.5 sacks in 2006-07 after transferring from Fort Scott Community College in Fort Scott, Kansas. He earned honorable mention All-Big 12 honors as a senior.
After his solid preseason with the Redskins last year, Jackson played in just three games as a rookie.
He made his NFL debut at Dallas on Sept. 28 and he saw action on the defensive line in a pair of December games.