Erasmus James buckled up his helmet and joined his Redskins teammates on the practice fields for the first time.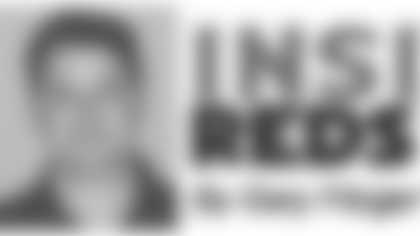 For James, just being there was a significant step in his return from knee ligament surgery.
"It's no fun when you are not out there, working with them and talking with them on the field," he said.
"It felt great to be out there again," he said. "The knee has been feeling better the past few weeks, actually. It has been a matter of holding to the [rehab] schedule they have prepared for me."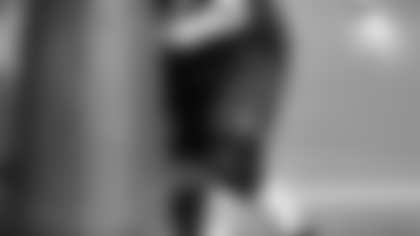 Erasmus James (AP Photo)
Added Jim Zorn: "He is starting to take off, start to work back into drills and really feel like he is a team member. That is going to be very exciting for him.
"If we get him in [the preseason game] at all this week, it will be because he did very well in all the drill work. Really, I would like to see how he is [progressing] the following week, more than anything."
James was officially removed from the team's Physically Unable to Perform list on Monday.
As James practices this week, he has one eye on playing in this Saturday's preseason game against the New York Jets.
"I want to get some work in this week and then possibly get a few snaps during the game," he said. "I am just itching to get out there, so even if I play one series, I will be happy with that."
The Redskins acquired James last May in a trade with the Minnesota Vikings. The oft-injured defensive end was a 2005 first-round draft pick by the Vikings.
James was a player on the rise in 2005, when he logged 34 tackles, four sacks and two forced fumbles in his rookie season with the Vikings.
Since then, James has been slowed by a series of knee ligament injuries.
During training camp with the Redskins, James has spent time working with physical therapist Larry Hess and the team's strength and conditioning coaches.
All while his teammates practiced just a few yards away.
James, who is down about 15 pounds from his playing weight of 275 last year, has remained patient--not frustrated--with his rehab.
"I've been excited the way the Redskins have handled it," he said.
James still must secure a Redskins roster spot in preseason.
Jason Taylor and Andre Carter are the projected starters at end. Demetric Evans--who has had a strong camp--and Chris Wilson are the primary backups, with rookie seventh-round pick Rob Jackson also in the mix.
James may have an advantage in that he played for Redskins defensive line coach John Palermo when they were both at Wisconsin from 2001-04.
He knows he must make an impact in preseason to show coaches he's ready to be part of a defensive end rotation.
"I feel like I can play the run and rush the passer," he said. "Wherever they want to use me will be great. I love the competition between all of the guys."