There's not much else Jon Jansen can do now other than look forward to 2008.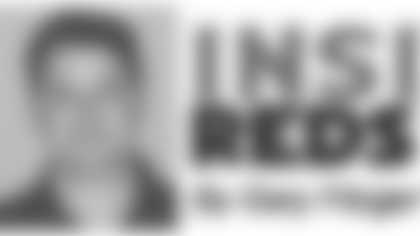 First, though, he has a long rehab--potentially 3-4 months--ahead of him.
Jansen suffered a fractured dislocation of his right ankle in Sunday's season opener against Miami at FedExField.
"Certainly it's a big loss for us," head coach Joe Gibbs said. "I felt like Jon made unusually good preparation this year. He hadn't missed a snap in practice. He hadn't missed a snap in games. It's just one of those things that can happen. We hate it."
No official word yet, but it's expected that Jansen will be placed on injured reserve, ending his season.
In a conference call with Washington, D.C., media on Monday, Jansen said he was confident that he would bounce back from the injury.
But he admitted to the frustration of a lost season.
"I really feel that the Redskins are going to take a big step forward," Jansen said. "And I really felt like I was in great shape and that I was healed up from some really nagging injuries the last couple years. I thought I was going to have a big year myself."
Jansen suffered the injury early in the second quarter. On 3rd-and-goal at the Dolphins' 5-yard line, Jansen was setting back in pass protection mode as he faced the rush of defensive end Matt Roth.
"The next thing I knew, someone [Jason Campbell] was falling back of me," Jansen said. "I felt three or four pops, and it was instant pain. It was a little less pain when they re-set it on the field there."
Jansen is expected to have surgery later this week when the swelling around the ankle has subsided.
Jansen expects to spend about six weeks in a cast and on crutches. After that, he'll be allowed to put weight on it while wearing a protective boot.
He said he could be ready to start running again in 10-12 weeks.
Gibbs compared Jansen's injury to Randy Thomas's fractured fibula suffered late in the 2005 season.
"Of course, Randy is back now and he has never had a problem with it," Gibbs said.
Jansen was sidelined all of 2004 with an Achilles injury suffered in the preseason opener that year. In subsequent years, he has battled through a pair of fractured thumbs and a calf injury.
"I'm hoping that I've run out of [injuries]," he said. "I hope that what's next for me is that I'm going to have a healthy year--put about 4-5 more healthy years together--and really have some great seasons.
"I have no doubt that I will. I've got to start looking forward to next year."