No more fresh starts for Larry Johnson.
Instead, he's ready for a "different era."
Johnson says he can't put the past behind him.
Not at age 30, not with 1,421 carries and 6,219 rushing yards in his 7-year career, and not after an occasionally tumultuous time in Kansas City from 2003-09.
He can turn the page, though.
"It's [a matter of] coming in here, being here and trying to work as hard as I can to impress the coaches," Johnson told reporters after a workout at Redskins Park on Thursday. "Then we'll see where it goes from there. But I wouldn't say it's a fresh start because, being 30, your fresh starts are already gone."
Johnson, a native of Pomfret, Md., joined the Redskins as an unrestricted free agent on March 12.
He played for the Chiefs from 2003 through the middle of last season, when he was abruptly released. He finished the season with the Cincinnati Bengals.
His time with the Bengals, who won the AFC North crown and earned a playoff berth, re-energized him.
While Johnson approaches his Redskins tenure with the mindset of a starter, he said he expects to share carries with Clinton Portis in the backfield.
Portis has some wear on him--significantly more than Johnson, in fact. Portis has 2,176 carries for 9,696 yards in his career.
So the duo ultimately could complement each other well.
Johnson is 6-1 and 230 pounds and could play the role of a bigger back. Portis is listed at 5-11 and 221 pounds and may be asked to use his speed and cut-back ability more this year.
Said Johnson of co-existing with Portis: "[Sharing carries] always seems to work out that way and it works best that way as far as the offense. Especially with Coach [Mike] Shanahan--he has always had so many backs and he is used to using all of them at the same time.
"It's definitely better for both of us because it will take off the wear and tear, we can play longer and produce more results."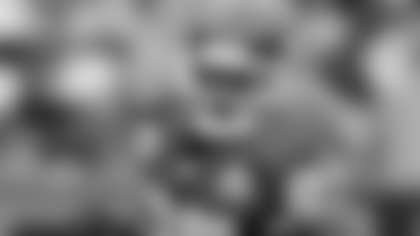 In Kansas City, Johnson often campaigned for more carries--he only had two seasons of 200 or more carries--but in Washington he said he wanted to prove himself first.
"To me, at this point of time, you lose being able to speak up," Johnson said. "You have to regain a respect as far as how many touches you can and can't have. In Kansas City I felt that I deserved more because I had been there before any of the other coaches that got there.
"I really came in with Coach [Dick] Vermeil and I felt I worked my way up to those carries. It's different here because I have to rework again to get myself back into how many carries I am going to get per game."
Johnson said he has not talked football with Portis yet, saying that "it's still early to talk about anything that we're going to do."
For now, their relationship is casual.
"We kind of just joke around, basically," he said. "He goes his way, I go my way, but there is always a certain respect because I know what he has been able to do on the field and he knows what I have been able to do on the field. We kind of complement each other and it's not really, 'I am coming here to take your spot.'"
As Johnson begins his "different era" in Washington, he must fight a perception that he has some wear on him as well.
In 2005-06, Johnson had 752 carries for a combined 3,539 yards and some believe those two seasons--as well as his physical style of running--took a toll.
In the next three seasons, Johnson had to battle injuries and posted just 529 carries for 2,014 yards.
"I still have a lot left," he maintained. "People forget, I didn't play much my first couple of years in the NFL, let alone college. I still have a lot of burn left...This is really me just kind of smoothing on out, kind of like a Cadillac. It never really loses, it's nothing. It kind of just moves on it."