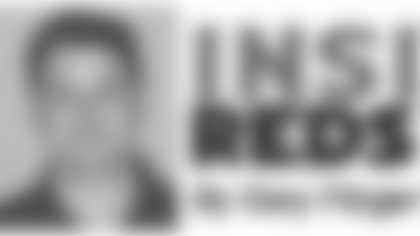 It was hard to miss Malcolm Kelly in Sunday's game at Seattle. His 6-4, 220-pound frame stood out whenever he ran out on to the field.
Kelly had two catches for 12 yards in the Redskins' 20-17 win over the Seahawks.
For Kelly, the stats didn't matter, though.
What mattered was that he was on the field again after being sidelined most of his rookie season with a knee injury.
It has been a struggle for Kelly missing playing time as he rehabbed his injury.
Then he had to play catch-up learning Jim Zorn's offense.
Coaches stayed with him--injured reserve was an option at one point. Their patience is starting to pay off.
"We can continue to get him more and more involved as we go along," Zorn said.
Kelly has had to come a long way in earning Zorn's trust, though.
"He has to continue improve his route running and his absolute knowledge of the offense," Zorn said. "You just have to be able to trust a receiver, so we have to be able to trust that he can do what is called for.
"He has to know who he is, where to line up and how to get it done. That is what he is working on."
Kelly feels like he knows the offense well enough. Now it's a matter of mastering the details.
Zorn's offense requires wide receivers to be very specific in how they line up and how they run their routes.
"Running around, catching the ball, making the good catch--that is natural," Kelly said. "[It is] the small things. If you are supposed to line up 12 yards outside of the tight end, don't line up 11, because it can throw the whole play off.
"I make sure I come out every day in practice and show him I can line up right. That should gain his trust."
On one pass play in the Seattle game, Campbell threw a pass to Kelly in the end zone in an attempt to take advantage of Kelly's height. The throw was out of reach, though.
When the play wasn't designed to go to Kelly, he contributed as a downfield blocker, which impressed Jim Zorn.
It is hoped that Kelly can progress enough that he and fellow rookie Devin Thomas can have an impact in the stretch run.
Thomas has served as a third and fourth receiver this season. He has posted 11 catches for 77 yards.
For now, Kelly is happy that he no longer feels pain or swelling in his knee during practice.
"Every single time I run a route now, turning back around and running to the huddle, I'm like, 'I'm glad it's not hurting,'" he said. "That's probably the biggest difference for me right now."