Two days before the Redskins drafted Malcolm Kelly, team officials traveled to Oklahoma for a private workout with the tall, lanky wide receiver.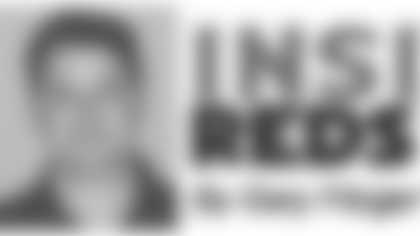 Redskins quarterback Jason Campbell was part of the contingent, and Campbell spent part of the workout throwing passes to Kelly.
That was a sure sign that Kelly was high on the Redskins' radar on draft day.
But Kelly slid to the middle of the second round--to the Redskins' surprise. So they chose him with the 51st overall selection in the draft.
One week later, Kelly is participating in his first Redskins practices at mini-camp.
Unlike top draft pick Devin Thomas and other young receivers on the Redskins' roster, Kelly could say that he developed a good rapport with Campbell heading into mini-camp.
"Jason helped me out a whole lot, just teaching me different stuff," Kelly said.
Thomas and tight end Fred Davis, the Redskins' other second round pick, may be more NFL ready than Kelly because they played in pro-style offenses in college.
Kelly, 6-3 and 210 pounds, has the size and skills to be a top NFL wide receiver, but at Oklahoma, he played in an offense that emphasized a rushing attack.
With the Sooners, he said he had a limited number of pass routes.
"There are certain things that Coach [Jim] Zorn has already talked to me about--I am going to have to work on some things," Kelly said. "I am a little raw in my route-running ability, but it is stuff that I will nail down. It is stuff that I will work on and focus on."
At Oklahoma, Kelly developed into a top prospect. He appeared in 39 games, with 34 starts, and finished his career as the school's fifth-leading receiver with 144 receptions.
Last year, he started all 14 games and logged 49 catches for 821 yards and nine touchdowns.
Kelly is a native of Longview, Tex.
During mini-camp at Redskins Park, Kelly soaked in his first NFL experience.
"It is cool, especially having the guys come around actually trying to help you out," he said. "Santana [Moss], Antwaan [Randle El] and even James [Thrash]-all those guys are coming up to you and trying to help you out.
"Really, everybody has something to learn. It is a brand new offense, so everybody has something to learn. We are kind of on the same playing field."
Kelly feels he adjusted to the speed of the NFL game quickly. That's something that all rookies must pick up.
Despite his confidence in himself, it gave him an indication of how much he has to learn.
"The defensive backs break on [routes] a little bit better in the NFL," Kelly said. "But I am already finding new tricks and doing things that coaches are telling me to do. I don't want to show the route as much."
Kelly drew some pre-draft scrutiny for his speed in the 40-yard dash.
Head coach Jim Zorn and wide receivers coach Stan Hixon were more focused on how well he gets off the line of scrimmage.
"He is very explosive off the line of scrimmage," Zorn said. "He will get down the field very quickly."
And coaches believe his height will offer Jason Campbell a bigger target in the red zone. That's an area that has been a struggle for the Redskins' offense in recent years.
"I know he has this attitude--he is going to want to go and get it," Zorn said.
And then there's a matter of learning the terminology of the offense.
"I studied the plays [the night before practice] and the exact plays I studied were exactly what we ran," he said. "It's not as hard as people make it out to be. We have a lot of plays to learn, though.
"If I just take it day-by-day, I feel I ought to be pretty good."