Malcolm Kelly is starting to work his way back into the Redskins' plans.
Still nursing knee soreness, Kelly was on the practice fields on Monday, taking part in individual drills. He sat out 11-on-11 and team work, though.
It was a first step in his return.
Kelly, one of three Redskins second-round draft picks last April, missed all of preseason and the first regular season due to a knee injury.
Kelly said he hoped to be full-go for Wednesday's practice.
"I feel better," he said. "I've basically had 10 days of rest and I really notice a difference in the knee. I'm going to take it slow [on Monday], and then come out Wednesday."
Jim Zorn said he wants to see Kelly fully healthy before playing him in a game.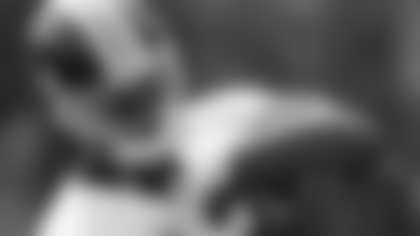 Kelly also needs a better grasp of the offense, Zorn said. He was limited in practice reps all preseason, so he is behind in on-field work.
"All of the rest and the rehab work he has been doing in the training room, it has really been helping him along," Zorn said. "We're excited about it, but the proof will be in the pudding as we get him involved. There's no way anyone can play, whether it's offense, defense or special teams, unless they participate in pracice.
"For Malcolm, I'd like him to participate fully. He needs the work. Veteran guys can get away with just partial practice. A young player like Malcolm has to be in there day in and day out.
"If he's 100 percent healthy, he'll get practice reps. And that will be the determining factor [for Kelly to play in games]--whether or not he can practice."
The Redskins' roster includes just five wide receivers.
Antwaan Randle El led the receivers in the New York Giants game last Thursday with seven catches for 73 yards. Santana Moss added five catches for 37 yards and one touchdown.
Rookie Devin Thomas, who had one catch for five yards, and James Thrash also saw action against the Giants. Kelly was deactivated.
If Kelly's injury continues to linger, the Redskins could bring in another wide receiver.
One candidate could be Billy McMullen, a four-year veteran who led the Redskins in preseason with 20 catches for 227 yards.