Maake Kemoeatu is breaking new ground in Washington.
Kemoeatu is listed at 6-5 and 345 pounds – he's going to break ground every time he takes a step!
Even head coach Mike Shanahan couldn't resist teasing Kemoeatu on Wednesday after practice at Redskins Park.
"If you look at his helmet – I have never seen a helmet that big before," Shanahan joked. "His helmet size is size 13. I think the biggest I've seen was 8½. So that gives you a little bit of an idea how big he is."
Kemoeatu comes to Washington as a "prototypical nose tackle," Shanahan said.
And that's what could be so ground-breaking about Kemoeatu.
For at least the last 40 years, the Redskins have deployed a 4-3 front as a base defense.
In 2010, it appears increasingly likely that coaches are going to use a 3-4 base defense.
That could make Kemoeatu, who signed with the Redskins on March 10, the first nose tackle in Redskins history.
First Kemoeatu must return from rehabbing a torn Achilles injury. He suffered the injury in preseason last year when he was with the Carolina Panthers.
"Rehab is going well," Kemoeatu said. "I think I'm at about 90 percent [healthy] right now. We're getting to the point where I'm rehabbing the last 10 percent. I should be ready for [June 16-18] mini-camp. My strength is coming on slowly."
Many of the Redskins' defensive linemen have been asked to gain weight this offseason, but Kemoeatu has been asked to drop a few pounds.
That's going to be a key for Kemoeatu, who plays a physically challenging position.
Imagine going up against two 300-pound offensive linemen every play.
"Pretty much my job is to take on blocks and make sure the linebackers – like London Fletcher and those guys – are able to flow to the ball," he said. "Any runs up the middle, obviously I need to stuff the middle and make the tackle."
Kemoeatu said he is "most comfortable" playing in a 3-4 base defense.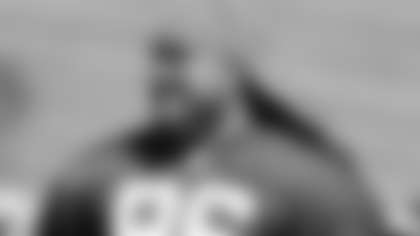 "I'm pretty much built to play nose tackle," he said. "My body type is I'm a big fat guy. That's where I feel most comfortable – in a 3-4. I can play 4-3, but my mentality is 3-4."
Kemoeatu entered the NFL as an undrafted rookie free agent with the Baltimore Ravens in 2002 (where he was a teammate of current Redskins center Casey Rabach).
Kemoeatu spent four years playing in Baltimore's 3-4 scheme and then signed with the Panthers, where he played in a 4-3.
"When I went to Carolina, they couldn't get me out of that 3-4 mentality, so they just put me in the middle of their 4-3 and kept me there," he said.
For his career, Kemoeatu has started 61-of-107 games and recorded 291 tackles (183 solo), four sacks, one forced fumble and one fumble recovery.
Kemoeatu is eager to get back on the football field after a year rehabbing his Achilles injury.
He is expected to compete with free agent pickups Howard Green and Anthony Bryant to be the primary nose tackle on defense.
"The team has brought in a lot of tackles and I know there's always going to be a Plan B," Kemoeatu said. "I'm sure the team has a Plan A, B, C and D, and if A doesn't work out, they'll go to Plan B. Hopefully Plan A works out first."
He added: "I have a lot to prove to the fans that I can still perform and help the team, and I also have a lot to prove to my teammates that I can help them even though I was injured when I signed here. I want to give back 100 percent to help the team win."