All last season, the Redskins' offense was described by coaches and players as a work in progress.
So by Week 17, it was natural to ask offensive coordinator Kyle Shanahan how much the offense actually did progress.
"I think we made a lot of progress," he replied. "It has been up and down, numbers-wise, it seems like. But we got through a whole year together. We mixed in a lot of guys. I do believe we have gotten better collectively, especially in the run game, as the year went on."
Shanahan, in his first year in Washington, implemented his scheme to varying degrees of success.
The offense finished 18th overall, posting an average of 335.9 yards per game. Points were hard to come by, though. The unit averaged 18.9 points per game, 25th in the league.
The offense finished 30th in the ground game and 8th in the passing game. Third downs were a season-long problem – the unit was 31st in that category, converting just 29 percent of third downs.
Shanahan's measure of the offense goes beyond stats, though.
It was important for the coaches and players to grow together on and off the field in 2010 and build off of what was successful, he said.
He expects improvement in 2011, even though there is likely to be personnel changes via free agency and the NFL Draft.
"Next season it'll be so much easier for everybody, not just the players but also the coaches," he said. "This is our first year together...No matter how much we meet, you don't really know it inside and out together and what each guy is expecting until you go through the experiences in games. Then you can build off of that."
Perhaps not surprisingly, the Redskins' quarterback position drew scrutiny as last season progressed.
Donovan McNabb, acquired in a high-profile off-season trade, started the first 13 games and completed 275-of-472 passes for 3,377 yards, 14 touchdowns and 15 interceptions. His QB rating was 77.1, ranked 26th in the league.
With the Redskins out of the playoffs at 5-8, head coach Mike Shanahan opted to bench McNabb and get a closer look at backups Rex Grossman and John Beck in the final three games.
The decision ignited a firestorm of controversy and Kyle Shanahan found himself responding to criticism from McNabb's agent in the season's final weeks.
It's uncertain if McNabb will be back in Washington next season.
Grossman, a pending free agent, completed 74-of-133 passes for 884 yards, seven touchdowns and four interceptions in four games last season.
Prior to the Redskins' season finale against the New York Giants, Shanahan said he had not yet developed an opinion on Grossman.
"I'm not trying to," he said. "I want to make sure to let him do his thing, let him go through three games. We'll evaluate it with the tape. I think he has done [well] so far."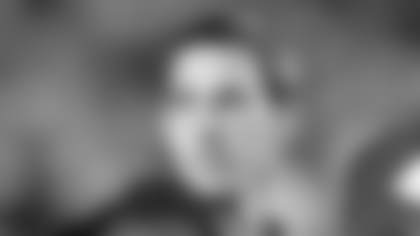 As for Beck, who did not play in a game last season, but was elevated to No. 2 behind Grossman for the final two games, Shanahan said: "It's good to see him get some reps with the [first team] where he's calling our offense [in practice]... To see him prepare and to see him be ready, I'm excited about him."
The offensive line was also a focal point last season.
The unit opened with three new starters in left tackle Trent Williams, right tackle Jammal Brown and right guard Artis Hicks.
By season's end, Derrick Dockery was replaced by second-year player Kory Lichtensteiger at left guard and Hicks was replaced by Will Montgomery.
Shanahan's scheme included zone blocking in which linemen were asked to use their mobility to open up running lanes. Many of the pass protection calls were different, too.
Through all of the changes, the line struggled with consistency in the ground game and pass protection units allowed 46 sacks, fourth-most in the league.
Shanahan said he saw more cohesiveness on the offensive line in the latter part of the season.
"I think they got better each week," he said. "You always have some setbacks. We do a little different protections that they have done in the past. We are more zone protections than man protections. I think it took guys a while to get the hang of it."
Williams, the Redskins' top draft pick last April, struggled with consistency but improved as the season progressed, Shanahan said.
"He's a smart, instinctive player," Shanahan said. "He has had to develop it as the year has gone on because he's seeing everything for the first time. Sometimes he sees a little too much and he over-thinks it.
"The things you can't coach are a guy's awareness and their instincts and you can tell it comes pretty natural for him. The more experience he gets, the better he gets."