It appeared Kyle Shanahan's media session on Tuesday was over – he had already answered a dozen questions on the status of quarterback Donovan McNabb.
The Redskins' offensive coordinator had something more to say, though.
He wanted to clarify statements that his father – head coach Mike Shanahan – had made a day earlier in explaining the decision to bench McNabb in the final minutes of last Sunday's 37-25 loss to the Detroit Lions.
Kyle Shanahan reiterated that McNabb's benching was related to hamstring injuries he has dealt with in recent weeks.
The hamstring injuries kept McNabb from practicing full speed and impacted his cardiovascular endurance, Shanahan emphasized.
But Shanahan felt that in media reports too much was being made of McNabb's cardiovascular endurance.
"When you say it was cardiovascular endurance, it was – but because he has two pulled hamstrings and hasn't practiced in full speed in three weeks," Shanahan said. "It wasn't because he has just been sitting around playing video games. That's the way I thought it came off, and that was unfair to [McNabb]."
Shanahan also said that he and Mike Shanahan met with McNabb in the days leading up to the Lions game and told him he might be benched if he struggles.
"Because of his hamstring issues, we were deciding that he was hurting, we knew he wouldn't take himself out, we didn't think he should play, we felt we should rest him up and get him better for the rest of the year," he said. "Donovan, being the competitor that he is, said, 'I will rise to the occasion and I will play.' He talked us into it.
"We told him, 'We understand, we're going to let you go. But if we do feel you're struggling in the game, which we think is possible because you can't practice full speed...we're going to have to go in a different direction."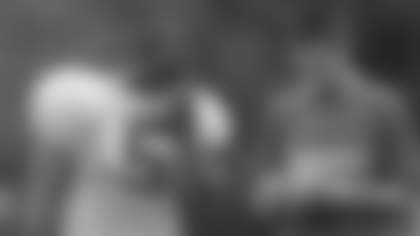 Ever since the benching, reports have circulated that the Shanahans are unhappy with McNabb's practice tempo and work ethic.
Kyle Shanahan disputed those reports, saying simply, "It is not true."
Shanahan, who calls offensive plays on game day, described his relationship with McNabb as "real good."
"I get along well with Donovan," he said. "I enjoy coaching him, I enjoy being around him."
McNabb made similar comments when asked about his relationship with his offensive coordinator.
"Kyle and I are great," he said. "We're a work in progress."
The Redskins acquired McNabb as part of a trade with the Philadelphia Eagles on April 4. McNabb played in a West Coast offense in Philadelphia, but he has had to learn the Shanahans' version of the West Coast system in Washington.
The transition has not always gone smoothly.
In the first eight games, McNabb has completed 57.4 percent of his passes for 1,971 yards, seven touchdowns and eight interceptions. His QB rating of 76.0 is ranked 25th in the league.
McNabb has been sacked 22 times and pass protection has been a problem in recent weeks. In last Sunday's loss to the Lions, McNabb and Rex Grossman were sacked a combined seven times.
The offense is ranked 20th in the NFL, 20th in rushing and 14th in passing.
Shanahan said there have been too many mistakes and that players are not yet performing consistently as they adjust to Shanahan's offense.
"As a whole offense, we're not playing like I expected," Kyle Shanahan said. "That starts with me, that's [McNabb] and the other 10 guys on the field, too. I would like us to get better, I would like [McNabb] to get better...We all have to do that."