Steve Largent caught 101 touchdowns in his 14-year NFL career--and most of those TD passes were thrown by Jim Zorn.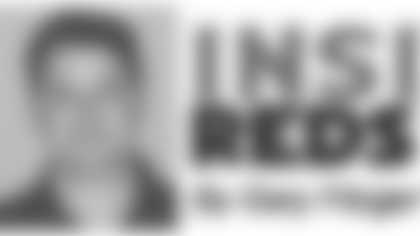 So when Zorn was introduced as the Redskins head coach on Sunday, Largent felt obliged to be in attendance.
Largent wanted to lend support for his long-time friend. They were teammates with the Seattle Seahawks from 1976-84.
"I came into the NFL the same year that Jim did in '76," Largent said after the press conference. "Right away we formed a really close bond because we both liked to work. We showed up every day in the offseason.
"We'd run routes, we'd lift together, we'd run. So Jim is not afraid of hard work."
Added Largent: "I'm thrilled for the Redskins and for Jim. I think he's a perfect fit for the type of organization they have built. They're not re-working anything. They have the team to get in the playoffs this year, and I think Jim can take them to the next step."
Largent is a prominent figure in the Washington, D.C., community and political arena. He served in the U.S. House of Representatives for Oklahoma from 1994-2002.
Largent is currently the President and CEO of the Cellular Telecommunications & Internet Association in Washington, D.C.
Inducted into the Pro Football Hall of Fame in 1995, Largent maintains his ties to the NFL.
He has always maintained his friendship with Zorn.
"Jim is the type of guy, if you were to talk to him one on one, he would be just the way he was in the press conference [on Sunday]," Largent said. "He is the real deal. He doesn't play games. He speaks the truth. And he is real straightforward.
"That's the way he is with his wife, that's the way he is with his friends, and that's the way he'll be with the Redskins."
Largent, 53, recognizes that Zorn will have a learning curve as a head coach.
"I can tell you that Jim is the type of guy who will learn very quickly," Largent said. "He will figure out where this team needs to be and how to get there."
Largent added that he expects to be a more frequent guest at FedExField this season as he watches Zorn's head coaching career get underway.