The Washington Redskins announced today that they have named left guard Kory Lichtensteiger the winner of the team's 2012 Ed Block Courage Award.
The honor is given annually to a player from each National Football League team who displays extraordinary courage in the face of adversity.
Lichtensteiger's 2011 season was cut short after suffering a season-ending multi-ligament knee injury against the Philadelphia Eagles in Week 6 during the Redskins' opening drive, tearing both his anterior cruciate ligament and medial collateral ligament in his right knee.
He was placed on the Reserve/Injured list on Oct. 17, 2011, before undergoing major surgery to repair both torn ligaments on Oct. 25, performed by Dr. Christopher Annunziata of Commonwealth Orthopedics.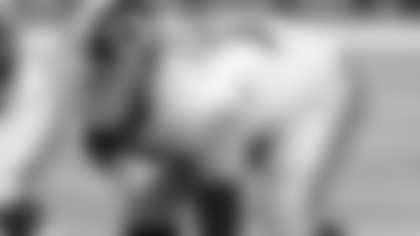 He also had an additional arthroscopic knee surgery prior to the beginning of the 2012 training camp.
"Leading into surgery and following surgery, Kory was dedicated to his rehabilitation program and getting himself ready for the following year," Redskins Head Athletic Trainer Larry Hess said. "He had mental and physical toughness through it all – early phases of rehab and late phases of rehab when we got him back on the field."
Lichtensteiger's hard work through his offseason physical therapy has allowed him the opportunity to start all 14 games through Week 15 of this season.
With Lichtensteiger along the offensive line, the Redskins lead the NFL in rushing yards per game with an average of 164.8.
The team's 2,307 rushing yards through 15 weeks has surpassed their 1,614 yards on the ground they amassed during the entire 2011 season.
"Kory is a warrior," Redskins Executive Vice President/Head Coach Mike Shanahan said. "He not only came back strong and healthy from a torn ACL in less than a year, but he tore his MCL in that knee as well. To be playing at the high level he is, speaks to the hard work he put in during the offseason."
The Courage Award is named after Ed Block, the longtime head athletic trainer of the Baltimore Colts who was a pioneer in his profession and a respected humanitarian.
The inaugural Ed Block Courage Award was presented in 1978 to Baltimore Colts' defensive end, Joe Ehrmann.
Following the Colts' departure from Baltimore in 1984, the scope of the award expanded to include one player from every team in the NFL.