It was a signing that immediately drew attention as the first of the Mike Shanahan era.
On Jan. 14, the Redskins signed offensive lineman Kory Lichtensteiger to a futures contract. He officially became a member of the Redskins' roster on March 5, the first day of the new league year.
Across message boards and fan forums, Redskins fans praised the seemingly minor move. To them, it appeared that the Redskins were finally putting an emphasis on the offensive line.
Lichtensteiger does not view himself as symbolic of change at Redskins Park, though.
He is simply a pro football player trying to earn a roster spot.
He landed in Washington in part because of a prior association with Shanahan.
A 6-3, 295-pound guard, Lichtensteiger was a fourth-round draft pick by the Shanahan-coached Denver Broncos in 2008. He played in 16 games as a rookie with the Broncos but was released in preseason 2009.
He had a brief stint with the Minnesota Vikings last season, but otherwise he was out of football until Shanahan and the Redskins called in January.
Lichtensteiger was excited.
"I remember hearing that I was Coach Shanahan's first signing," Lichtensteiger said during the Redskins' mini-camp in June. "That's kind of an honor in itself. I don't take it to mean that I was his first priority or anything like that.
"It was very cool that he remembered me from our Denver days and still respected me enough to want to sign me."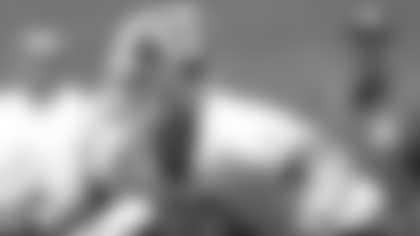 Lichtensteiger (pronounced LICK-ten-sty-ger) is among the many new faces on the Redskins' new-look offensive line.
The team added seven new offensive linemen, including probable starters Jammal Brown, Artis Hicks and top draft pick Trent Williams.
Lichtensteiger saw action at center and guard with the second-team offensive line during the Redskins' off-season practices.
"I feel like I'm fitting in pretty well," Lichtensteiger said. "It's kind of nice for me because as a new player, I'm not coming in and trying to catch up to every else. I feel like we're all starting at the same spot, with the new offense and the new coach."
Lichtensteiger is competing with Will Montgomery, Edwin Williams, Chad Rinehart and rookie Erik Cook, among others, for a backup job.
"We're in the same position and we're trying to play as many of those inside positions as we can," Lichtensteiger said. "We're trying to be that utility guy that hopefully makes the team and dresses as both a guard and center."
He hopes to eventually become a starter in the NFL, but he is willing to work his way up to that role.
"If starting is not your goal, then you're not in it for the right reason," he said. "This is my third year, and I've been a backup the whole time. I'd love to get an opportunity to start.
"Here, the three inside positions seem to be pretty secure right now...But you never know. I would love to be in a position where if my number is called, I can go in there and take care of business."