"In Los Angeles, everyone is a star." - Denzel Washington
Situated just south of the Hollywood Hills, Los Angeles Memorial Coliseum attracted its fair share of Redskins fans last Sunday. They had the thrill of seeing their team pick up its first victory of the season in thrilling fashion against the Rams, scoring a go-ahead touchdown and intercepting a pass to seal the game in the final minutes. It was another example of the Redskins' resiliency, coming up big on the road in a game that felt necessary to win.
These road games provide unique traveling experiences, ones that occur at least eight times each season, which are nothing new but are rarely documented. When does a team get to its predetermined location? How do players approach each part of their journeys? What seat on the plane do they prefer?
Wide receiver Jamison Crowder is in his third season and has experienced his fair share of road trips. Here, he takes you through his itinerary and mindset during the Redskins' first trip of the regular season last weekend. 1. 2:30 p.m. Friday – Team bus departs Inova Sports Performance Center
For Crowder, preparation is key. Before he boards the bus he wants to make sure he has everything ready to go before the long flight ahead. "My headphones, making sure my phone is charged, just trying to make sure to get the little stuff taken care of," he says.
"I'm just thinking about the game and things about what I need to do to be influential in the game while I'm on the flight," Crowder says.
2. 3:00 p.m. Friday – Board plane at Dulles International Airport
As the season progresses, and it gets a little colder, Crowder will opt for a blazer. But on a relatively warm day and nearly five hours of sitting inside a plane awaiting him, Crowder's priority is feeling comfortable.  That's why he goes with just a shirt as he walks up the plane steps.
"I wanted to look as presentable as possible without wearing a suit because I knew the flight was going to be long," he says. "I wanted to feel comfortable. So, I made sure that was one of the things that I kept in mind was that to wear a nice shirt, nice jeans, nice pair of dress shoes and still be comfortable. I made sure that I tried to look as clean as possible."
3. 3:15 p.m.  Friday – On the plane
Crowder is assigned a window seat, which suits him just fine. He starts off the trip with some music – "Obviously I'm a big J Cole fan, so I listened to some of his albums, some of his mixtapes" – and then decides to watch the movie *Hidden Figures. *
"About midway through I ended up falling asleep, so I'm going to have to go back and watch the end, because I don't know what happened. But it seemed like a pretty good movie up to the point that I didn't watch," Crowder says. "I'm definitely going to have to finish that. Once I woke up, I probably had another hour-and-a-half or so until we landed. I just put back on my music for the time being and that was pretty much it. Once we got to the West Coast, once we got closer over there, I turned on some Kendrick Lamar. I was trying to get into my West Coast vibes."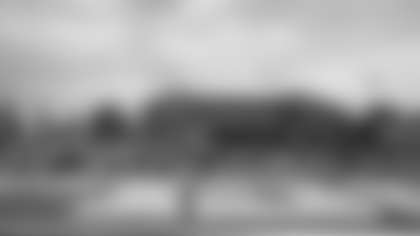 4. 6:15 p.m. Friday – Arrive at hotel, Marina Del Ray, Calif.
For dinner that night, Crowder heads out to Santa Monica with fellow wide receiver Josh Doctson, whose favorite restaurant is Del Frisco's. "That's definitely his favorite," Crowder says. "I mean, it's alright. I like it, it's pretty good, but that's definitely Doctson's favorite restaurant."
After dinner both of them walk over to the Santa Monica pier where they meet up with wide receiver Brian Quick.
"We chilled out there for a little bit and then just went back to the hotel after that," he says. "I just laid down and stayed in the room pretty much for the rest of the evening."
5. 1:00 p.m. Saturday – Bus to UCLA for practice
The work doesn't end on Saturday. The team has its usual walkthrough practice scheduled, but because they're in a new city, they must borrow a practice field. This time UCLA comes to the rescue, offering up their facility for the team to get in sync one last time before Sunday's game.
"They had a really nice facility, from the little bit that we saw," Crowder says. "I think that whole bus ride there from the hotel to the facility was pretty cool because you get a chance to kind of see the difference, get views of the different landscapes of L.A. Me being from the south, and being used to more land and more open areas, seeing L.A. and all the houses and stuff right close together and all the palm trees and all that kind of stuff, it was a cool bus ride from the hotel to the practice field. Once I got there, UCLA has a really nice facility and it was pretty cool."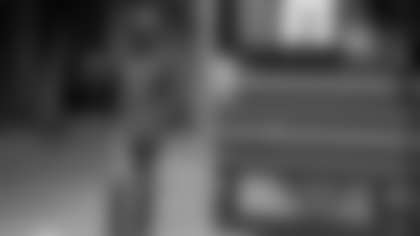 6. 2:30 p.m. Saturday - Return to hotel
After the team returns from walkthrough practice, players have their options to find dinner and prepare for the game ahead. Crowder meets up with a friend who worked in Los Angeles and the two walk down the street to grab some dinner and talk for some more in the hotel lobby. Then it's time to relax.
"For the most part on Saturday I just try to chill out and stay off my feet as much as possible and really just do the things I need to do to get my body ready for the game," he says. "Whatever hotel we're in I make sure I have my bag of epsom salts and always run me a warm bath just to kind of loosen up my muscles and everything the night before."
7. 9:15 a.m. Sunday – Board bus to Los Angeles Memorial Coliseum
Better rested than the previous night and with the jet lag not as strong, some players rise early and head to the buses parked outside the hotel. Now is the time for focus – to go over everything that has been covered and practiced during the week.
"I'm just thinking about the game," Crowder says of his mindset on the bus. "Just trying to let the game play in my mind, just trying to pump myself up making sure that I'm on the details of whatever plays, notes that I'm going through from over the week from practice, just a last checkup to make sure I'm good. Other than that it's just go out there and  make plays, have fun, don't get to caught up into it. At the end of the day, it's a game. It's a job, but it's a game, so go out there and have fun and make plays."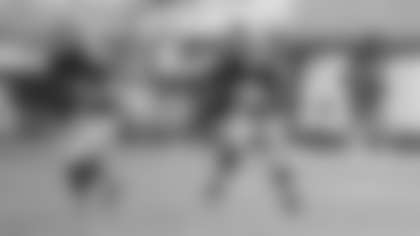 8. 1:25 p.m. Sunday – Game begins vs. Los Angeles Rams
The Redskins defeat the Rams 27-20 to collect their first victory of the season. Crowder grabs four passes for 47 yards, picking up a key first down on the final, game-winning drive of the day. The experience of playing in the Coliseum is notable, for a variety of reasons.
"We were warming up out there and I was actually thinking about the movie *Money Talks*, a movie with Chris Tucker," Crowder says. "At the end of the movie, Chris Tucker took this French guy's diamonds and had them hidden at the Coliseum. There's a part in the movie towards the end -- I kind of laughed to myself  -- Chris Tucker grabs the diamonds and yells to the French guy, "Is this what you want?"  So he takes the diamonds and just tosses them and throws them down the Coliseum steps. You have to see the movie. So I was thinking about that. But it was cool playing there for the first time and I was just glad we could get the win."
9. 6:25 p.m. Sunday – Board plane at LAX
After changing back into their casual clothes, players walk up the Coliseum tunnel, board the buses and depart for the airport. Awaiting them is another four-hour-plus flight home, but this one will be much sweeter.
"It's definitely better when you win. It's not as bad," he says. "I knew it was a long flight. Like I said, I made sure that I had my headphones, my phone charged up, put back on my music. I ended up taking a nap and fell asleep for much of the flight. It was uncomfortable but I stayed asleep. I didn't even watch a movie this time. I played a little bit of solitaire.
"By the time I woke up we were getting ready to land. So the flight was a little easier coming back after the win."
Another road trip in the books.