Redskins rookie linebacker Nico Marley may be small, but, he plays with a big heart, hoping to make the team's roster as he carries his father and grandfather's legacy with him.
"We Marleys, we do nothing structured," says Rohan Marley, sitting beside his son, Nico Marley, last Saturday evening.
This phrase – observation, ideology, maybe mission statement? -- can and will be interpreted in many ways and in many different circumstances. But it is noticeable, at first, earlier that afternoon, as Nico leaves his cousin's apartment in Chevy Chase, Md., to grab some lunch.
Where are we going? Nico is unsure. Who are we meeting? Nico doesn't know.
"I just go where they tell me," he says, ordering an Uber to drop us off at The Rural Society.
Eventually, I find out, we are meeting a group affiliated with Jack Brewer, a family friend of Rohan and a former NFL safety whose foundation is helping host a Polo (as in the horse-riding sport) event in Poolesville, Md.
The event doesn't begin until 5:30 p.m., and Brewer wants to eat in downtown Washington, D.C., hoping to pick up Rohan from Union Station, before driving into the countryside. Nico is just going with the flow.
Over the next couple of hours, Nico talks with a small, diverse group over bagel and lox about his start in the NFL and the reality of signing with the Washington Redskins. Rohan's train from New York is late and so the group migrates to a nearby bar, where a conversation between Brewer and two African-American police officers takes over the room.
Brewer's publicist, trying to make phone calls in the background, hears that Rohan has decided to drive straight to the event instead of travelling with our caravan, which has become engrossed in a political debate. At this point, our arrival will be extremely late. Nico shrugs, and we eventually climb into another Uber an hour later.
"No structure means we have no privacy, no special moments – every moment is special, everything counts," Rohan will later clarify. "Everything is important to us -- every person, every being, everyone."
This makes it hard to coordinate a small family reunion like Saturday is supposed to be, but it certainly makes it more memorable.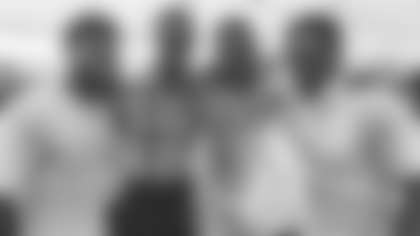 The first thing you notice about Nico Marley is his size, even though it's of least importance to him and his father. He's listed a 5-foot-8, 200 pounds, and will attempt to the make the team's 53-man roster later this summer as an inside linebacker, a position that typically requires a little more height and mass.
But he and Rohan will convince you none of that matters.
When we arrive late at the patch of land that's been mowed into the Summerhill Polo Club, Nico and Rohan immediately embrace and join the party, which consists of several small tents and couches and people waiting to purchase items for an auction. The proceeds will go the Many Hats Institute, a non-profit dedicated to improving conditions for children worldwide.
The duo takes some requisite photos together in front of a backdrop before they join me on a couch and begin sharing their philosophy on life and football and the legacy of their last name. They haven't seen each other in person in several months, well before Nico signed his rookie contract, so they sit beside each other in a supreme state of happiness.
"When we play football, it's important to us to be the best at what we're doing and always give our all," says Rohan, who played football himself at the University of Miami and had a brief stint in the Canadian Football League.  "Animal, lion-type thing…We run right through you. We like leverage. If you're going 20 miles per hour, we're doing 120. You tell me who's going to win."
"They call it physics, I call it heart," Nico says.
Each of them likes to fill in the other's sentences, which sometimes means talking out of turn. Rohan has a unique way of expressing his words, and it's not because of his Jamaican accent. It's as though words aren't enough for him. Everything comes with an analogy. He grunts and curses and punches the air and gets up to give demonstrations, like when he shows how Nico learned to shuffle step at Tulane's pro day.
But back to size. The Marley's don't use that word when measuring their physical attributes. It's only meaningful as a mentality, to explain the "Lion Order," a family slogan you could say.
Rohan breaks into a story. He has lots of them. He recalls a game playing linebacker against Colorado University, getting duped into a play action pass and being late on a tackle. In the second half, Rohan recognized the same play taking shape, dropped back and "tried to kill him," a 6-foot-7 tight end. He quickly laments that he would never be able to play in today's penalizing climate. "I play because I want war wounds on helmet."
Though his head must tilt up as he recites plays to the defense during OTA practice, Nico shares the same way of thinking.
"When I look at somebody, I don't feel shorter than them," he says. "When somebody's 6-foot-6, I'm 6-foot-7. Must be. They tell me I'm small. Where? Who?"
"You grab that guy's hand at 6-foot-6, it feels like porridge," Rohan says. "It's soft, like no grit, just big but not naturally hard core. You know what I did when I was a little kid? I'm the type of guy, I take a [light] bulb and I crushed the bulb in my hand, because I can break it. Not because I'll get cut, but because I can break it. Why not? That's just the mentality."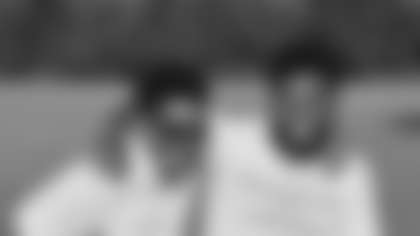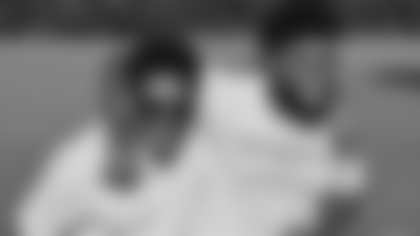 Nico began playing football in eighth grade in an Optimus League outside of Miami. His first position was nose tackle, of all things, but he showed early just how explosive he could be.
Ray Lewis will attest. Friends with Rohan during their University of Miami playing days, he joined his former teammate to see one of Nico's games.
"You know what Ray says to me? He says 'Ro, we're going to be hearing about that boy,'" Rohan says.
Rohan, who now owns a coffee company and is involved with various business projects, was never the kind of sports dad that pressured his son into pursuing the dreams he didn't achieve. After playing in the CFL for a season, Rohan made the Jamaican National Soccer Team but tore his hamstring and determined that entering business with brother would be a better route for his future. He's content with his brief sports career, and is glad Nico is pursuing his.
"The only pressure I put on Nico was, 'Tackle this way, tackle that way, run to the ball, keep your head on a swivel," Rohan says.
"I think it was after Optimus, he just asked me like, 'Are we going to do this?'" Nico says of his dad's tutelage. "Is this what you want to do? Do I just want to do this today and forget about it tomorrow, or do I really want to do this?'"
He did really want to do it. After playing at Cypress Bay High School, Nico defied his height critics as a four-year letterman at Tulane, where he started 48 of his 49 games and capped his career there by becoming the school's all-time tackles for loss leader with 50.5. He finished his senior season with 86 tackles, 13 for a loss, three sacks and three forced fumbles.
"I remember that day we went to Tulane and Coach [Curtis] Johnson, he says, 'If Nico doesn't come here and go crazy, we're going to call a psychiatrist, because something's wrong,'" Rohan remembers.
Following the draft, Nico received an invitation to try out during the Redskins' rookie minicamp. After three days of workouts, scrimmages and meetings, Nico went home to Miami, where his mother lives, not anticipating any news.
"I texted my little brother, Zion. I said, 'Look, they said maybe later, they're not signing at this time,'" Nico says. "He said, 'Don't worry about it, they're gonna call you, don't worry about it.' He must know something I don't know."
Maybe he did. The Redskins called Nico later that night to relay the good news and needed him back in Ashburn by Tuesday morning to take a physical. Rohan was scheduled to speak on The Dan LeBatard Show at 9:30 that morning and waited for a text from Nico confirming he had passed his exam to broadcast to the world that his son was a Redskin.
"Ten minutes in, Nico texts me, 'Dad I passed the physical, I'm going to sign right now," says Rohan, who realized simultaneously that the Redskins were the first NFL team he watched via satellite growing up in Jamaica. "Perfect timing."
"We brought him in here, saw this little linebacker, and the object of a defense is to try to get the ball back for the offense and he had two interceptions and recovered a fumble and had about three tackles for loss," Redskins head coach Jay Gruden said last month. "I said, well, he deserves an opportunity, so we gave him an opportunity."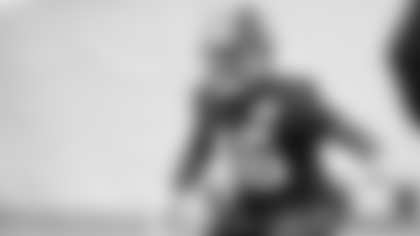 Pride runs through Rohan as he recounts these moments, giggling with his son as they replay the actual transcripts of their text messages. They talk each day after practice about the good and bad, and they remain in sync cities apart. A few weeks ago, Nico called Rohan not knowing his father had just lost his phone in Cuba.
"I called the phone that he lost and then three minutes later he called me from his other phone," Nico says. "The phone was lost but he called me at the same time. That was a moment I held onto, that was nice. I call him -- good day, bad day, I let him know."
At first glance, it seems strange, even antithetical, that the kin of Bob Marley, the icon who brought reggae music to forefront, would play such a vicious sport. The laid back rhythm and guitar plucks of "Three Little Birds" it would seem, doesn't translate to the fast-paced physicality of the gridiron.
But Rohan, one of 11 siblings, is quick to correct that assumption.
"Laid back is just the tempo. But listen to the words," he says.  "It's a revolution. It takes a revolution to make a solution, that we're go-getters, we think about making it happen. The words are what empower us."
Which is to say: the music is slow in the same way Nico is short. There is, to borrow the family's imagery, a lion pouncing within.
Indeed, that last name carries history and popularity with it, but it has yet to become a burden for Rohan and Nico, who was born 14 years after Bob died. Being first called "Bob Marley's grandson" instead of "Redskins linebacker" is not a frustration for Nico so much as a reminder of his roots.
"This is the way I think about it," Nico says. "[Bob] didn't live a life for himself. He lived life for everybody in the world. Every message was for everybody to follow. So now if I, Nico Marley, Bob's grandson, if I'm learning from that, I can't [separate from it]. I embrace it. His positive message, it's not going to reach [people] on their own. My grandfather's not here anymore. If I can help that, if I can continue to spread his message -- because it wasn't just for me, it was for everybody -- it's up to me spread that message in my own way."
Nico, who was born in Haiti and returns to the country at least a couple times each year, knows about the communities that message can affect. And for an hour sitting together with his father, there certainly seems to be enough love between them to spread throughout the entire party.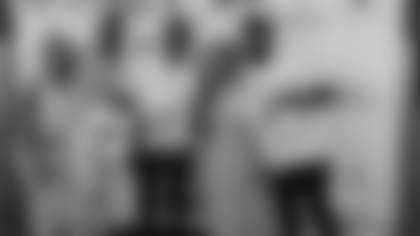 In Nico, Rohan sees truth to the Marley way. He sees his son carrying his name to greater places with better discipline than he ever possessed. "My son is way better than me. He's a greater man, better person, much more together in his mind," Rohan says, as Nico swiftly credits his father with providing him the foundation to be so.
"Ever since he signed with the Redskins, I've been back in the gym," Rohan says. "I'm inspired by him now. I'm back working out because of him. I was like, 'This is real, what we say, our way is real.' Nobody else really thinks this Lion Order mentality. Lion Order is really being a lion all the time. Not the aggressive part, but the lion, the way. The lion never wakes up and says, 'I'm not eating today.' A lion's a lion every day. Every day you've got to take on an elephant."
That will be the daily metaphorical task for Nico when the Redskins travel to Richmond, Va., for training camp at the end of July. He will have a small chance with a crowded, veteran middle linebacker room, but on a warm Saturday evening in the midst of friends and strangers, which Rohan will make seem like friends, this is not a looming concern.
"I hope for Nico that he continues to excel at what he loves to do," Rohan says before excusing himself to mingle with guests and pose for more photos. For now, that's playing football, but it could be something else in the near or distant future. Nico is only focusing on the here and now, making sure to live the way of his father, the Marley way, the only way he knows.
"That's who I want to be," Nico says. "No matter who it is, he treats everybody the same way -- same kindness, same respectfulness. Everybody gets the same love."
Then he goes to mingle with guests, pose for more photos and gives his dad another hug.