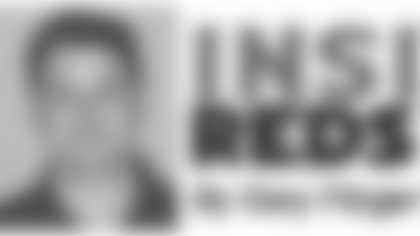 The local college workout at Redskins Park on Friday lacked the big names of years past.
Future NFL starters Shawne Merriman, Ron Bartell, D'Qwell Jackson and Antoine Bethea were among those who had attended in previous years.
What was not lacking on Friday?
Wide eyes. Lots of wide eyes, as dozens of draft hopefuls walked onto the Redskins Park practice fields eager to launch an NFL career.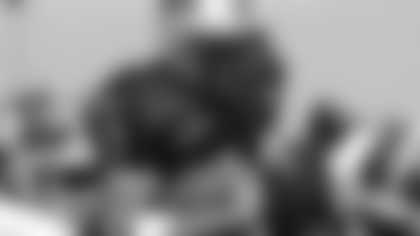 Maryland's Dan Gronkowski
vs. Clemson (Getty Images)


The combine-style workout was their chance to be evaluated by the Redskins' coaches and personnel officials in an NFL environment. A total of 56 prospects were in attendance.
To be invited to the workout, players had to be draft eligible and either played college or high school football in the Washington, D.C., region.
In previous years, the Redskins have discovered several NFL prospects, including Stephon Heyer, Alex Buzbee and Marcus Mason, at the workout.
Heyer is in the mix for a starting job at right tackle and Buzbee is competing for a roster spot at defensive end. Mason is on the New York Jets roster.
As always, the bulk of players came from local colleges, including Maryland, Howard, Bowie State and Georgetown. Players from Virginia Tech, Virginia, Michigan, Notre Dame, New Mexico, Illinois, Marshall and Central Arkansas were also on hand.
Maryland had the most prospects--22 in all--in attendance. The Terps' top draft prospects include wide receiver Isiaiah Williams, tight end Dan Gronkowski, offensive linemen Jaimie Thomas and Edwin Williams and linebackers Moise Fokou and Dave Philistin.
Other top draft prospects on hand were Kent State offensive tackle Augustus Parrish, Virginia Tech quarterback Sean Glennon, Illinois defensive end Will Davis, New Mexico cornerback DeAndre Wright and St. Paul's college cornerback Greg Toler.
Most are regarded as mid- or late-round selections in the April 25-26 NFL Draft.
The following is a complete list of players who attended the workout on Friday:
REDSKINS 2009 LOCAL COLLEGE WORKOUT, APRIL 3
Position
Player
College
DB
Jeff Allen
Maryland
LB
Aaron Ball
Maryland
DB
Andrew Berry
Harvard
DL
Justin Brown
Notre Dame
LB
Chase Bullock
Maryland
OL
Scott Burley
Maryland
WR
Conrad Carter
Duquesne
TE
Colin Chloherty
Brown
LB
Endor Cooper
Howard
LB
Louis Corum
Shepherd
LB
Trey Covington
Maryland
RB
John Crone
Richmond
DB
Arnold Davis
Maryland
DL
Will Davis
Illinois
DB
Martin Decembert
Howard
DB
Doug Dutch
Michigan
K
Obi Egekeze
Maryland
DL
Ataefiok Etukeren
Georgetown
DL
Alex Fields
Virginia
LB
Moise Fokou
Maryland
DB
Val Ford
Prairie View A&M
DB
Richan Gaskins
Duquesne
QB
Sean Glennon
Virginia Tech
LB
Kevin Grant
Akron
OL
Jack Griffin
Maryland
TE
Dan Gronkowski
Maryland
WR
Lawrence Hellams
Upper Iowa
RB
Rashad Henry
Maryland
DB
B.J. Hill
Ball State
WR
Arlandus Hood
Howard
P
Stuart Kentworthy
Delaware
DB
Achille Kolla
Catholic
WR
Marcus Lee
Towson
DB
Evan McCollough
James Madison
RB
Kenneth Mitchell
Georgetown
DL
Dean Muhtadi
Maryland
DB
Nick Olivero
Catholic
WR
Danny Oquendo
Maryland
DL
Bemi Otulaja
Maryland
OL
Augustus Parrish
Kent State
LB
Dave Philistin
Maryland
LB
Rodney Pittman
Illinois
OL
Dane Randolph
Maryland
DL
Akiel Russell
Delaware State
LS
Andrew Schmitt
Maryland
LB
Alex Schultz
Maryland
RB
Jordan Scott
Colgate
DL
J.D. Skolnitsky
James Madison
DL
Alfred Sutton
Howard
OL
Jaimie Thomas
Maryland
DB
Greg Toler
St. Paul's College
OL
Edwin Williams
Maryland
WR
Isaiah Williams
Maryland
DB
DeAndre Wright
New Mexico
WR
E.J. Wynn
Marshall