On Wednesday afternoon, Washington Redskins linebacker London Fletcher took the podium after practice to announce that after 16 years in the NFL, he is likely hanging up his cleats at season's end.
The message was given to the media but catered towards the fans.
"I wanted to look at this opportunity to let the fans know that this will more than likely be my last season in the National Football League," he said carefully. "With this being the final home game, I wanted to definitely get an opportunity to say goodbye to the burgundy and gold faithful.
"The fans at FedEx have been so gracious to me with my seven years here in Washington. I'm about 99 percent certain that this will be my last season in the National Football League."
Fletcher left open the door 1 percent for his return, but said that his decision was based on many factors that were unlikely to change in the coming weeks.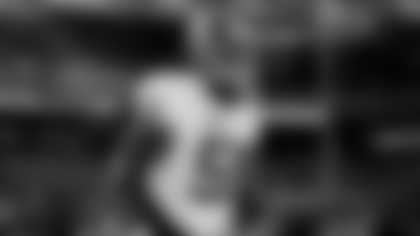 He noted that the team's 3-11 record and disappointing season did not stand out in his decision to walk away.
"I feel like I've accomplished everything I can accomplish in the National Football League from a player's standpoint," he explained. "Obviously everybody wants to go out like Ray Lewis with the Super Bowl parade; that would be great to go out, but it wasn't in the cards for me if this is it.
"It's more again about trying to leave a legacy and putting some seeds in place. Hopefully, they'll grow and fester years down the road and I can be proud of this organization, this franchise that I've played for. That's really how I look at it."
Instead, retirement is something that the 38-year-old linebacker has pondered almost since coming to Washington seven years ago.
At the time, he signed what was expected to be a career-ending five-year deal here. Seven years later, reportedly at the end of a second contract, Fletcher has found closure. "Biblically speaking, the number seven marks completion so you know for me I feel like my work is done here in Washington," he said with a smile.
"For probably about the last four or five years, I've always thought about retirement and what do I want to do. I wanted to do some other things in life. In order to do it at the level that I've been able to do it, it takes a lot of commitment and a lot of sacrifice.
"All of the things that I've been able to do, I've enjoyed doing it. But I've missed a lot of other parts of my life. I've got three young children, so they're back in Charlotte so I'm missing parts of their life with them growing up."
Well-respected in league circles for his intensity, preparation, longevity and leadership, Fletcher has played in an NFL defensive player record 254 consecutive games.
Teammates and coaches do not expect any less than 100 percent of what Fletcher has to offer when the team takes the field against Dallas this Sunday.
"It's the biggest compliment that I can give somebody that every time he comes to work that everybody knows that he's going to prepare like it's the Super Bowl," head caoch Mike Shanahan said of Fletcher. "For him to have that mindset for as long as he has and to not miss a game speaks volumes to who he is."
As if the team needed extra motivation to win on Sunday, Fletcher's legacy has been a rallying cry for teammates.
"We would love to have him walk off that field for the last time, if it will be his last time, with a victory," quarterback Kirk Cousins said. "We all respect and admire London, and he's a great leader in our locker room and has shown all of us what it means to conduct ourselves like a professional on and off the field.
"I think it would mean a lot to London to get a win, but I think it would mean a lot to us as his teammates to send him off with a win."
Fletcher classified the team's Week 14 loss to the Kansas City Chiefs as an embarrassment and said that he wanted an iconic victory over the Cowboys to help erase the sour taste in his mouth.
"I just thought with this being the final home game, this being Dallas Cowboy week, an opportunity to go out with a bang, get the fans riled up, say thank you to them and beat the Cowboys," he said. "What better way to end it?
"What we put on display against Kansas City, that hurt me to my core. So with this, I want our fans to be riled up, I want it to be a special occasion, I want us to get that win.
"I want to leave with great memories."