Don Breaux, a long-time Redskins assistant coach and veteran of 27 NFL seasons, has retired from the team.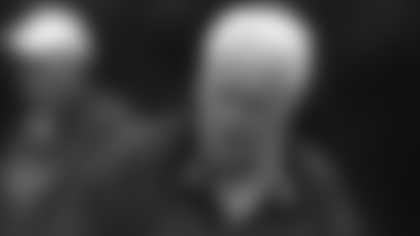 Don Breaux (Don Wright Photo)
Breaux spent 17 seasons as a Redskins assistant coach, including two stints under Joe Gibbs serving as running backs coach (1981-93) and offensive coordinator (2004-07).

Breaux is retiring effective immediately because of a heart condition.

"I want to thank Don for his friendship and for all his contributions and commitment to the Redskins organization," owner Daniel M. Snyder said. "Don is a man of great integrity and a tremendous teacher, who played a pivotal role in the Redskins' three Super Bowl championships and our most recent two trips to the playoffs.

"I will miss Don at Redskins Park and extend my best wishes to him and his wife Harleen."

Said Breaux: "I felt it was a privilege to coach for one of the NFL's premiere franchises for 17 years under an outstanding leader of men in Joe Gibbs. I also want to pay tribute to Dan Snyder, who I feel operates a first-class organization for the fans, players, coaches and staff.

"I wish the Redskins success under new head coach Jim Zorn. I was looking forward to working with Coach Zorn and the staff [in 2008]."

Breaux was part of four Super Bowl teams with the Redskins, including three that won NFL championships.

In those three Super Bowl victories, Breaux tutored a trio of different starting running backs in John Riggins (1982), Timmy Smith (1987) and Earnest Byner (1991). Riggins was named the game's MVP, while Smith set a Super Bowl record with 204 rushing yards.

During Breaux's first tenure in Washington, four different players produced seven 1,000-yard rushing seasons, including Riggins (1983-84), George Rogers (1985-86), Byner (1990-91) and Reggie Brooks (1993).

After leaving thhe Redskins in 1993, Breaux went on to coach tight ends for the New York Jets (1994) and Carolina Panthers (1995-2002).

Breaux returned to Washington, D.C., with Gibbs in 2004 as offensive coordinator, a position he held through 2007. Although Gibbs and later Al Saunders directed the Redskins' offense in those years, Breaux was relied on for his game-planning expertise.

Breaux and his wife Harleen reside in North Carolina.

Breaux, a native of Jennings, La., was a standout quarterback at McNeese State before playing three seasons in the AFL with Denver (1963) and San Diego (1964-65).

He entered the coaching profession in 1966 at Florida State, where he spent two years. He also held college posts at Arkansas (1968-71, 1977-80), Florida (1973-74) and Texas (1975-76).

Breaux's first NFL coaching job came in 1972 when he coached the Houston Oilers' running backs.