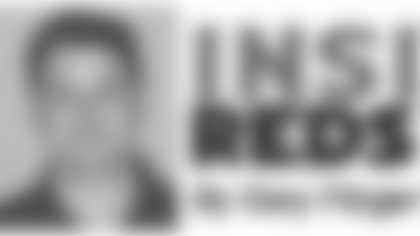 Malcolm Kelly pulled in a pass on a slant pattern, adjusting his body mid-route because the throw was slightly behind him.
He moved up-field, turning on his troublesome left knee.
Finally, Kelly's knee was healthy enough to allow him to flash the potential the Redskins saw in him in the 2008 NFL Draft.
Kelly made his return to the Redskins Park practice fields on Monday, after months of resting and rehabbing the knee.
"It has been a long time coming," Kelly said after practice. "I was anxious to go out there, run a route and feel the ball hit my hands."
Kelly has been running pass routes individually for the last month. The difference this week has been competing against defensive backs.
"It's one thing to run against air, but when you have actual defensive backs, it makes it a little more complicated," he said. "A lot of the route-running I was doing, coaches made sure I was cutting on the leg I had surgery on. My knee has reacted well for a whole month now."
It's welcome news for Kelly, the former Oklahoma standout, and the Redskins.
Last year, Kelly struggled with his knee injury and missed extended practice and playing time.
Coaches waited him out, hoping he would be well enough to play in the stretch run, but he was able to play in just five games.
He finished the season with just three catches for 18 yards.
Kelly had arthroscopic knee surgery in January and was told to take his time with his rehab. Coaches and team officials wanted his knee to be fully healthy for the start of training camp.
Monday's OTA practice was a promising first step.
"What was nice was that we didn't limit him in any way," head coach Jim Zorn said. "We didn't put him on short routes hoping he would just last through the practice. We just practiced him. That was a tremendous sign."
Zorn considers Kelly to be, in a sense, a second-year rookie. Kelly is going to have a "learning curve" as he puts into action everything he has studied the last year.
"It's easy to tell someone to run a curl route, but to line up at the right split, work inside, get off on the snap count, run it against a defensive back and run an inside or outside technique--that takes a little bit of time," Zorn said.
Zorn has been impressed with Kelly's explosiveness at the line of scrimmage as well as his pass-catching ability.
Kelly needs to improve on his breaks as he comes out of pass routes, Zorn said.
What is Kelly's role for the coming season?
"I hope he can compete for a starting role," Zorn replied. "Santana [Moss] is our starter, and Antwaan is our starter on the other side. I hope Devin [Thomas] and Malcolm both compete for a position. And if not the starting position, then their roles are to be [contributors], to get on the field this year and get them the ball."
Kelly said he doesn't feel external pressure to prove his potential.
He does put pressure on himself, though.
"It's a pride thing," he said. "You can say it isn't, but no one wants to sit there watching. That's what pushes me every day."