Art Monk waited eight years to be inducted into the Pro Football Hall of Fame.
So it was only fitting that Monk would be the last of six enshrines to give his induction speech on Saturday in Canton, Ohio.
And when the legions of Redskins fans in attendance stood and applauded and chanted "Art, Art, Art" for nearly five minutes, Monk was happy to wait a little longer.
"This is an awesome, awesome moment in my life," he said.
Many fans deemed Monk to be awesome as a wide receiver.
He played from 1980-93 and was a major part of the powerful Redskins teams that won three Super Bowls from 1982-91.
He finished his career with 940 receptions, the most ever at the time, for 12,721 yards and 68 touchdowns.
"From the time I first picked up a football I fell in love with this game," he said. "It's all I ever wanted to do. From playing tackle in the streets of White Plains, N.Y., to playing in the stadiums in the NFL, I never ever imagined it would take me this far.
"It's taken a lot of hard work and sacrifice and the belief from people and times when I didn't believe in myself. I've experienced some exciting moments, I've met some extraordinary people and I have a lot of great memories that I will never forget.
"This is the icing on the cake for me, and I take it very seriously. And I'm extremely honored to now be included with this group of elite athletes and to do so with my Class of 2008. I will wear the banner with pride. And I will represent it well."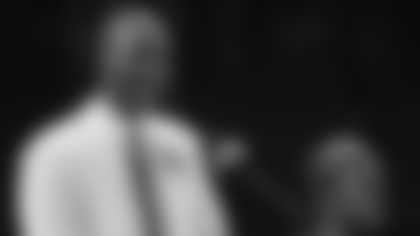 Art Monk (AP Photo)
As Redskins fans well know, Monk's induction into the Hall of Fame was not without controversy.

Despite his impressive statistics and support from the greats of the game, Monk was passed over induction for seven years.

He was too quiet and not a self-promoter, some said. He did not have a signature catch and he was not as dominant as other receivers of his era, others suggested.

Meantime, wide receivers with lesser statistics earned induction, adding to the frustration of fans.

During his speech, Monk acknowledged the "controversy," but once again refused to let it define him or his accomplishments.

"What I've tried to convey to those who were upset about the process was that I was okay with it," he said. "In all due respect, that as great as this honor is, it's not what really defines who I am or the things that I've been able to accomplish in my life."

He added: "Through it all, I'm here with a greater appreciation for something that not every player is able to achieve.

"For all of the people who stood up for me and spoke out on my behalf, like [Washington Times reporter and Hall of Fame voter] David Elfin and all of you out there, the love and support I received these past seven to eight years, has been overwhelming. And I appreciate it very much."

Monk arrived in Washington, D.C., as a first-round draft choice in 1980. He made an immediate impact, with 58 receptions in his rookie year.

Monk singled out his teammates that year, the last of the so-called "Over the Hill Gang," for challenging him.

"These were partially gray-haired, cigar-smoking, trash-talking veterans who were serious about their football and who played really hard," Monk said. "And because I was an incoming rookie, they gave me a hard time, physically and mentally they tested me.

"Not just to see and to prove me worthy of wearing the burgundy and gold, but to see if I would be the type of player that would fit in to being a team player and one that they can trust and count on.

"These guys were also full of experience and wisdom and often they would pull me aside before practice, during practice, after practice, outside of practice and give me valuable words of wisdom about myself as a person, my skill as a wide receiver and about the game of football being played in Washington D.C."

Through the years, Monk found mentors in a group of teammates who would become his closest friends and partners in the Good Samaritans Foundation, a non-profit group he founded to prepare youth for leadership in the community and the workplace.

He cited former Redskins Monte Coleman, Charles Mann, fellow Hall of Famer Darrell Green, Tim Johnson and Ken Coffey.

"They're the ones who not only took the time to share the gospel to me, but they also demonstrated it in their lives, which allowed me to receive the gospel for myself," Monk said. "And this was a life changing experience for me.

"I greatly appreciate God using them and putting them in my life. Thank you, guys."

Monk thanked his family, particularly wife Desiree and son James, Jr., who was his presenter.

A devout Christian, Monk said it was his strong faith in God that guided him through his playing career--and beyond.

"I'll always be known as a Redskin," he said. "That's right. And even now as a Hall of Famer, the one thing I want to make very clear is that my identity and my security is found in the Lord.

"And what defines me and my validation comes in having accepted his son Jesus Christ as my personal savior.

"And what defines me is the word of God and it's the word of God that will continue to shape and mold me into the person that I know he's called me to be."