Will the Redskins keep four running backs on the final roster?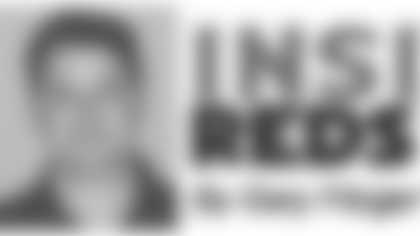 Marcus Mason can't worry about that.
It's not something he can control. He is focused on performing to the best of his ability in the Redskins' final two preseason games.
After that, all he can do is let coaches make their decision.
So, let's ask assistant head coach-running backs Stump Mitchell.
Will the Redskins keep four running backs on the final roster?
"We have some quality running backs here and Marcus Mason is one of them," Mitchell said. "Hopefully he will be around here, but if not, I think he will make somebody's team. I think he has a good chance right here, and we'll see after the next two games."
Mason leads the Redskins' ground game with 233 yards on 43 carries, an impressive 5.4 yards-per-carry average. Mason also has four catches for 22 yards and a touchdown.
Clinton Portis is entrenched as the starter, with Ladell Betts the backup. Both have proven they can rush for 1,000-plus yards in the NFL.
It would appear Mason is competing with Rock Cartwright for the final roster spot.
Cartwright had a 73-yard run in last Saturday's preseason game against the New York Jets. He is also a special teams standout, returning kickoffs and excelling in kick coverage.
Given all that, it's likely that Cartwright has earned a roster spot again.
Mason has been through this before. As a rookie, he earned an opening day roster spot on the Redskins last year, but after one week he was signed to the team's practice squad.
To stick with the Redskins this year, Mason knows he must follow Cartwright's approach and play well on special teams.
"My main focus right now is special teams," Mason said. "I need to make plays on special teams."
He is kicking himself for his gaffe in the second preseason game against the Buffalo Bills. He returned the opening kickoff 30 yards, but a tackler poked the ball loose for a fumble.
"It's a major issue, not only with but also with him," head coach Jim Zorn said. "To put the ball back in their hands at the beginning of the game--you can see how important it is to have a fast start.
"To his credit, he stayed in the game mentally, secured the ball the rest of the game and really made no physical errors as that game went on."
Mason finished the Buffalo game with 80 yards on 16 carries.
He recorded 55 yards on nine carries in the Jets game.
For Mason to make the final roster, the Redskins would likely have to settle for less depth at another position, possibly offensive line or maybe even safety.
"He's right in the mix," Zorn said. "There's no question he has created a very difficult situation. He is what every player is supposed to do--to make it so hard for us to cut him."
Even if Mason doesn't make the Redskins' final roster, he hopes to make a good enough impression to sign on with another NFL team.
NFL scouts have attended Redskins games this preseason with the intent of watching Mason.
"I hope other teams are watching me," he said. "That's my goal, to play somewhere. I really want to be here, though. I have a good relationship with the coaches and players."