Marcus Mason was just two yards shy of the century mark in last Sunday's Hall of Fame game in Canton, Ohio.
Reminded of that, Mason, who finished with 98 yards on 18 carries, just laughed.
"I wasn't thinking about 100 yards," said Mason, the Redskins' second-year running back. "The way my offensive line was blocking, I was thinking about 150, 160. Something like that."
As it was, Mason was the talk of the locker room following Washington's 30-16 pre-season win over Indianapolis.
Teammates and coaches were mentioning how quick and decisive Mason looked against the Colts in the nationally-televised game.
"Marcus ran hard and made some great reads," Clinton Portis said. "I like watching him run. He is shifty and has great hands. If he continues to make plays, you have to find somewhere to put him."
Certainly, Mason impressed Stump Mitchell, the Redskins' assistant head coach and running backs coach.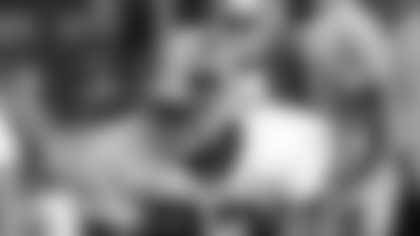 Marcus Mason
(Ned Dishman Photo)
"Marcus Mason can play in this league--there's no doubt about that," Mitchell said after the team's Thursday morning practice at Redskins Park. "He has the ability to make quick cuts, he had good vision, and he can catch the ball."
Added Mitchell: "Marcus can do a lot of good things for you. But he's in a situation where he has three guys ahead of him who have proven themselves.
"So, for Marcus, he has to show that he can become an impact player on special teams."
With Portis, Ladell Betts and Rock Cartwright ahead in the pecking order, Mason needed a strong showing in Canton. Mission accomplished.
In this Saturday's preseason game against the Buffalo Bills at FedExField, Mason will be out to prove that he can make plays on Danny Smith's special teams units as well.
"That's what the coaches keep telling me," said Mason, who earned a spot on the Redskins' practice squad last year. "That's what I need to focus on."
High school coaches in the Washington, D.C., area long have known of Mason's skills. He attended Georgetown Prep and became the all-time leading rusher in Maryland high school history with 5,700 yards.
At Youngstown State, not that far from Canton, the 5-9, 215-pound Mason rushed for 1,847 yards and 23 touchdowns as a senior.
Said Mason: "I received a lot of phone calls from friends and family members after the game in Canton. That game did a lot to help build my confidence. But still, in my situation, I know I need to keep pushing ahead."
Mason does not expect to play as much against Buffalo, as Portis, Betts and Cartwright settle into a rotation.
Added Mason: "I still will get a good amount. The only thing I can do is try my best when I'm out there, and depend on my offensive line."
The biggest difference between this year and last year?
"Last year, I was star-struck, seeing Clinton, Santana Moss, Chris Cooley and some of these other guys. I was a little nervous, but having been around those guys for a whole year has made me more comfortable.
"I have more confidence this year, and right now I'm just having fun. Coach Mitchell doesn't sugar-coat things. He tells me to stay focused, and he tells me how important the little things are, as far as technique."
At least as far as the preseason opener was concerned, those lessons are paying off for Mason.