Rocky McIntosh was feeling it--the anticipation of making a big play.
He had just stopped New Orleans Saints wide receiver Devery Henderson on an end-around, forcing a 3rd-and-1 in a Dec. 6 game at FedExField.
Next play, the 6-2, 238-pound outside linebacker set up behind the defensive line and attacked the line of scrimmage. He tackled running back Mike Bell for no gain, forcing the Saints to punt.
He jumped up after the tackle and pumped his fist as fans roared approval.
McIntosh is unafraid to show emotion on the football field.
In many ways, it is what drives him.
Off the field, though, he is quiet and maybe even a little guarded. He often shies away from interviews.
"I don't believe that's what I'm here to play the game for," he said. "I'm here to be dominant and help my team win. All the other stuff is kind of nonsense to me. I'm focused on getting wins."
He prefers to communicate and reach out to fans in his own way.
McIntosh launched his own web site and he found an outlet on Twitter last year. He recently hosted a video on his web site in which he shouted "I love football" while wearing 1930s-era leather football helmet and dancing in front of the Redskins Players Lounge at Redskins Park.
His occasionally goofy sense of humor belies a real passion for football.
McIntosh enters the 2010 offseason with a degree of uncertainty, though.
McIntosh is scheduled to be an unrestricted free agent, but if the NFL and the players union cannot agree on a new Collective Bargaining Agreement, then the rules change. The 2010 season is uncapped and McIntosh becomes a restricted free agent.
Asked about his free agency status toward the end of last season, McIntosh brushed it off as the business side of the game.
He prefers to focus on football.
McIntosh arrived in Washington as a second-round draft pick (35th overall) in the 2006 NFL Draft. The Redskins traded up to get him because they figured he would not be available when they drafted at No. 53 overall.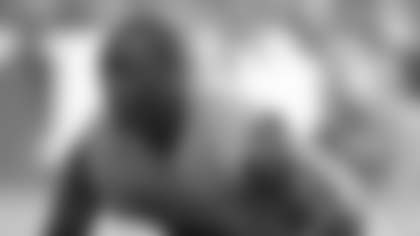 Since 2007, the University of Miami product has started 44-of-48 games and proved to be resilient coming back from a serious knee ligament injury in the 2008 offseason.
Last year, McIntosh posted 115 tackles, second-most behind London Fletcher, two interceptions and two forced fumbles.
"I feel very comfortable in what I'm doing, and it's showing up on the field and how I'm making plays," he said. "I'm just trying to keep that approach."
He is able to recognize plays as they develop and use his instincts to get in position to make plays.
"Definitely, I'm recognizing the offenses better," he said. "I'm able to make quick assignment decisions and go ahead and make plays. I'm just playing with a swagger now."
With that confidence comes an inclination to give back to the community.
McIntosh is a regular participant in the programs of the Redskins Charitable Foundation. He has spent time at children's hospitals, schools and libraries. In November, he joined teammates and helped distribute food for the needy at Thanksgiving.
In 2007, McIntosh was selected as the Redskins' nominee for the Walter Payton Man of the Year Award, given annually by the NFL to honor a player's volunteer and charity work.
He seems to be at home in the community.
"I'm blessed to be here, so I definitely want to give back any way possible," McIntosh said. "If anybody needs me, I'm bound to show up and help any way I can."