The good news for New York Giants coach Tom Coughlin was that Donovan McNabb had been traded by the Philadelphia Eagles.
The bad news? The Eagles kept him in the division by dealing him to the Redskins.
McNabb historically had success against the Giants, winning 11 of 18 starts against the Giants during his tenure with Philly. The Redskins (5-6) visit the Giants (7-4) Sunday and this is not a reunion that Coughlin celebrates. McNabb is the obstacle that just won't go away.
"You could put it that way," Coughlin said. "He's going to be in a different uniform – that would be a little different for all of us – but we have played against Donovan many times and he certainly is an outstanding quarterback and leader of his team, no matter whether it's Philadelphia or Washington."
It's easy to understand why Coughlin may feel he has seen enough of No. 5, whether in Eagles green or burgundy and gold. Last year, the Eagles swept the Giants, beating them 40-17 in Philly and 45-38 in old Giants Stadium.
McNabb chalked up a passer rating of 146.7 in that first game, completing 17 of 23 for 240 yards and three touchdowns. Second time around? A mere 17 of 26 for 275 yards, two touchdowns and one interception, and a rating of 110.3.
Given that the Giants have beaten the Redskins four in a row and seven of eight in the days before McNabb came over, the dynamic might now be altered.
How'd you like that trade, coach?
"My thoughts can't be expressed at this time," Coughin said.
Including the playoffs, McNabb's Eagles rang up four consecutive victories over the Giants, which McNabb genially credited to the folks around him. He also noted he is now part of a changed universe.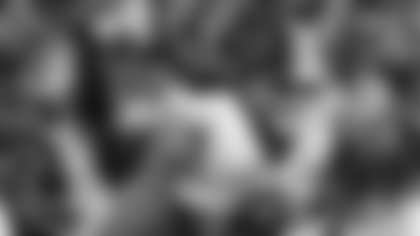 It's just a comfort level in the team that you're with and the things that you're able to do," he said. "Guys around me made plays, and when you're playing against a team twice a year, you have a feel with them, like what they're going to do, their defense's fronts and blitzes, and the answers to some of their questions.
"That's something that is obviously a lot different being with a different ballclub, but when you play against a team for 11 years, you build a good relationship with them as far as what they're doing and the defensive coordinators and things of that nature. It's going to be a battle, and it's going to be a lot of fun."
QUOTABLE:"It's amazing what can happen in a month. Start of the month, lost my mother in law. I had been out of football this year. Two weeks ago I wasn't playing football and now I'm part of the Pittsburgh Steelers and was fortunate enough to make a kick to win the game." – Former Redskins kicker, now Steelers kicker, Shaun Suisham, after the 19-16 overtime victory over the Buffalo Bills, in which he made four field goals. ... "Third downs are tough and that's why obviously I don't like them." – San Diego coach Norv Turner after the Chargers went 0-8 on third down in beating the Indianapolis Colts. ... "You learn a lot just from watching how he works and how he breaks down his opponent. It's great to have him." – Chicago Bears defensive end Israel Idonije, talking about the other Bears end, Julius Peppers, named NFC Defensive Player of the Month for November. They've combined for 13 sacks.
AROUND THE NFL: Cleveland Browns left tackle Joe Thomas, a No. 1 pick in 2007, has started 59 consecutive games and has not missed an offensive snap. ... The Miami Dolphins held the Oakland Raiders to -8 yards rushing in the first quarter of their 33-17 victory Sunday. ... The Atlanta Falcons are 19-1 at home with Matt Ryan starting at quarterback. He was their No. 1 pick in 2008. Let's see how the Falcons (9-2) do on the road. They play their next three away, visiting the Tampa Bay Buccaneers Sunday. ... What do defensive rankings mean? Just a lot of yards. And who ranks last in the NFL in pass defense? The New England Patriots. Go figure. They're 31st in total defense, just ahead of the Redskins. The Patriots are allowing a little more than 400 yards a game. ... A note for field-position geeks. Baltimore Ravens kicker Billy Cundiff leads the NFL with 31 kickoffs for touchbacks. The Redskins' Graham Gano is tied for 17th with seven. ... The Redskins' Brandon Banks is tied for eighth among NFL leaders on punt returns and is fifth in kickoff returns. ... Week 12 was a tough one to run the football. The Indianapolis Colts managed 24 yards on the ground, the Redskins 29 and the sad-sack Arizona Cardinals only 13 in their Monday night mashing by the San Francisco 49ers. ... Buffalo Bills quarterback Ryan Fitzpatrick needs to throw one touchdown pass against the the Minnesota Vikings to become the first Bills passer to toss 20 in a season since Drew Bledsoe in 2004. ... The Chargers have won an NFL-record 18 consecutive games in December and look to avenge a loss to the Oakland Raiders that snapped a 13-game winning streak against their division rivals. ... All eyes will be on the Monday night matchup between the Patriots and New York Jets, both 9-2. These are rivals with a real disdain for each other. It's at Foxborough, Mass., but the Jets have won a franchise record eight in a row on the road.
---
Larry Weisman, an award-winning journalist during 25 years with USA TODAY, writes for Redskins.com and appears nightly on Redskins Nation on Comcast SportsNet. Read his Redskinsblitz blog at Redskinsrule.com and follow him on Twitter.com/LarryWeisman.