It's easy to forget that Donovan McNabb is new here.
He has been a Redskin for not even four months.
And yet, McNabb is regarded by some as the face of the franchise.
Not only is he looked at as a leader on the field, he is prominent in Redskins promotional campaigns.
Most newcomers ease into their new surroundings.
He is quick to assume a leadership role on the Redskins.
He accepts that he is the face of the franchise.
"There's a lot of responsibility to it," McNabb said as Redskins training camp kicked off. "A lot of people would love to be in the position – until they're in it. They can't handle it. But I enjoy it.
"I drive off of it because guys rely on you. They have that confidence that you're going to get your job done, and they'll do the same. I understand that and a lot of the other guys do as well. That's why I really take pride in what I do on the field, as well when I'm off the field."
It was April 4 when McNabb was abruptly traded from the Philadelphia Eagles to the Redskins.
This was a blockbuster deal – McNabb was the face of the Eagles' franchise for 11 seasons.
McNabb had a Hall of Fame-caliber career in Philadelphia. He threw for 32,873 yards and 216 touchdowns, posted a career quarterback rating of 86.5 and earned six Pro Bowl berths.
He guided the Eagles to the playoffs seven times and played in five NFC Championship games from 2000-09.
A Super Bowl title is the only thing that McNabb was unable to accomplish in Philadelphia.
The Eagles grew tired of waiting.
That's why he is the face of the Redskins now.
All of what McNabb endured in Philadelphia -- from Eagles fans booing on his draft day to the well-publicized dust-up with Rush Limbaugh to the infamous Terrell Owens controversy -- has prepared him for this role.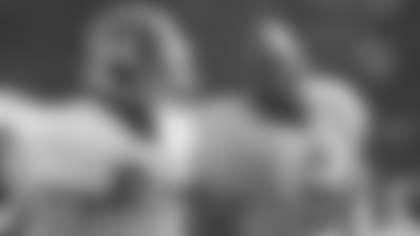 "Donovan is a class act," head coach Mike Shanahan said. "He always carries himself at the highest level. You can see he is fun and the players enjoy him. He is a natural leader."
McNabb arrived in a locker room that went through a discouraging 4-12 season last year.
If any team needed an infusion of leadership, it was the Redskins.
Along with Shanahan, McNabb immediately helped set a new tone.
"From what I understand, the attitude here is a lot different than it has been over the past couple of years,' he said. "I think when we get out on the field, people see that."
He wants teammates believing in him, believing in themselves and believing in the team.
"One message I try to send to these guys, after being in Philadelphia, obviously the expectations every year are high, and I think you have to make them high," McNabb said. "You have to set goals that are high and attainable. For this team, we all have the same goal and that's to win a Super Bowl.
"In order for us to do that, we have to come out on the practice field and be very effective, be very methodical on offense and defense, with everyone reading their keys and doing the right things."
McNabb says it does not feel strange to be in Redskins training camp after so many years in Philadelphia.
A week before training camp, he bonded with Redskins receivers during a week-long practice session in Arizona.
"It was an opportunity for us to get to know each other, work on our chemistry and timing," McNabb said. "A lot of times that's an unwritten thing. People don't really want to spend that time doing that – they just want to get out on the field and think everything is going to work well."
Getting to know his new Redskins teammates has helped him move on from Philadelphia.
"This is an energizing bunch," he said. "Obviously, we're young but we have a lot of great athletes who are just ready to explode."