Donovan McNabb is still new here – he has been a Redskin for just over six months – but he isn't going to hold back.
He is going to be front and center – in how he leads and how he plays.
Don't ask him to be any other way.
"I'm just going to be myself," he said. "The guys here that I play with now have known me over the years and everyone knows I'm going to be myself. When you get into trying to change who you are and trying to please others, then that takes you away mentally from what you set out to do.
"I'm just going to be myself, make sure the guys are really loose, and that I'm loose myself, and prepare and be ready to go and have fun."
This Sunday night, the Donovan McNabb era officially kicks off when the Redskins host the Dallas Cowboys at FedExField.
McNabb has taken his much-discussed April 4 trade from Philadelphia to Washington in stride.
He no longer dwells on it. It's not motivation – at least not for Sunday's game vs. Dallas.
"It has been so long now," he said. "I mean, I don't need any motivation to play this game. [The trade] happened, it's over and now I have been moved on, so I'm having fun here."
Against Dallas on Sunday, McNabb faces off against a Cowboys team he faced twice at the end of last year as quarterback of the Eagles.
In a 24-0 loss to Dallas on Jan. 3, McNabb completed 20-of-36 passes for 223 yards and was sacked four times as the Cowboys clinched the NFC East crown.
A week later, in the NFC Wild Card playoffs round, McNabb completed 17-of-39 passes for 230 yards, one touchdown and one touchdown in a 34-14 loss. He was again sacked four times.
Two tough losses that some say may have brought on the trade to Washington.
McNabb does not feel like he has something to prove against the Cowboys despite last year's disappointing finish.
"No, it's just what's on the schedule," he said. "I think for a lot of it that went on last year is over. I think they're looking at it the same way. Was I excited or happy about where it ended? No. But I'm sure they weren't happy or excited about the way their season ended in the playoffs. This is an opportunity for both teams to kick start their season off on the right note."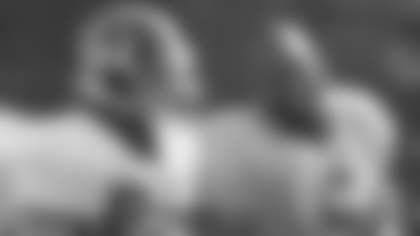 It helps that McNabb has familiarity with the Cowboys 3-4 defense, a unit that ranked ninth in the NFL last season and fourth against the run.
"They have been very successful over the last couple of years," he said. "You talk about their defense, you start with [linebacker] DeMarcus Ware because he can apply pressure to the quarterback and be very disruptive in the passing game. You talk about [nose tackle] Jay Ratliff.
"You talk about Bradie James, a guy who may not receive a lot of attention, but he does a great job for them in being their middle linebacker and plugging holes and trying to be disruptive in the run game. Their corners are very effective."
His familiarity with the Cowboys may be neutralized by the fact that he is operating a new offense and a new set of receivers.
In preseason, McNabb played in two games and completed 16-of-34 passes for 264 yards, one touchdown and one interception. His QB rating was 71.2.
McNabb sat out the third preseason with an ankle injury. He has said the injury has healed well enough for him to play.
His experience gives him confidence as he embarks on his 12th NFL season.
"I'm confident just [seeing] the way guys have been approaching it leading up to this week," he said. "For all of us, you know – who cares about the preseason at this point? That's over. Everybody wants to see the regular season games. We are ready to go, and I think we can do it."