Fifteen minutes before kickoff on Sunday, Redskins players ran out onto Lincoln Financial Field to the usual collection of boos accorded to the visiting team.
Then No. 5 emerged from the Redskins' tunnel.
McNabb was given a standing ovation by Eagles fans, normally an ornery bunch.
It was Donovan McNabb's first time at Lincoln Financial Field as a visitor following the surprising April 4 trade between the Redskins and Philadelphia Eagles.
Amid all of the hype of McNabb's return to Philadelphia, perhaps the biggest question mark was how he would be received by Eagle fans.
After his ovation, McNabb stood at midfield for a few seconds and he waved to fans.
"There are a lot of people [in Philadelphia] who truly were accepting of the things that I was able to do and respected me as a person and as a player," McNabb said. "I do feel like I was appreciated in Philadelphia."
Was he able to maintain focus after the ovation?
"Definitely, I said it all week that I wasn't going to let any of the hoopla affect what the mindset was for all of us to be focused and ready to go," McNabb said. "I was overwhelmed a little bit with the standing ovation and the reception that I got, but again you have to buckle your chinstrap and win the game."
Of course, once the game started, there was little that Eagle fans could appreciate from their team's performance early on.
The Redskins jumped out to a 14-0 first quarter lead over the Eagles. They fended off a late rally and held on to win 17-12.
And there were a smattering of boos mid-game.
"I spent 11 years here and you knew it was coming," McNabb said with a smile. "You didn't expect them to cheer for me the whole game. That just wouldn't be right."
In the locker room after the game, McNabb addressed the Redskins team. His comments, broadcast on FOX Sports, suggested how much the win meant to him.
"This defines team," he said. "Despite whatever has happened the last couple of weeks, this right here shows how tough we are...This is something we can feed off of into the rest of the season. We are number one in the NFC East, and we're going to stay up there."
He added: "Everybody makes mistakes in their lifetime, and they made one last year."
McNabb turned in an uneven performance overall. He appeared sharp early, but he struggled in the second half.
McNabb finished the game with just 8-of-19 pass completions for 125 yards, one touchdown and one interception.
In the second half, he was just 2-of-11 for 10 yards.
McNabb's first pass against the Eagles came midway through the first quarter. He rolled right, and then threw across his body to the left to a wide open Fred Davis. The throw was off the mark and Davis could not hang on to the ball.
His first completion was a short pass to Clinton Portis, who turned up-field for a 14-yard pickup.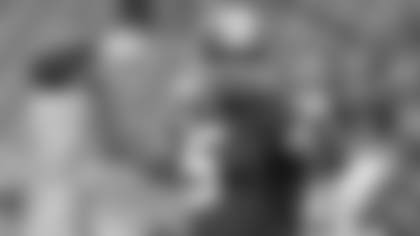 Two plays later, on 3rd-and-5 at the Eagles' 31-yard line, McNabb threw downfield to Chris Cooley, who had a step on two defenders. He caught the ball and raced into the end zone for a score, giving the Redskins a 14-0 lead.
McNabb turned to guard Derrick Dockery and celebrated on the field.
"I was just happy that he was able to break free and I tried to put it in position for him," McNabb said. "Cooley is a guy that you feel good about the mismatches he creates. We took advantage of that."
In the second quarter, McNabb threw deep again. He connected with wide receiver Anthony Armstrong for a 57-yard gain.
It would have been a sure touchdown – and forever a McNabb highlight in his return to Philadelphia – if Armstrong had been able to keep his balance.
After struggling in the second half, McNabb came through with a clutch run late in the fourth quarter as the Redskins tried to run out the clock on the Eagles.
On third down, McNabb scrambled right and picked up 18 yards for a key first down. The play extended the Redskins' drive and gave the Eagles little time to pull off a comeback.
Meantime, the Eagles' quarterback situation was thrust into uncertainty – again – when starter Michael Vick suffered a rib injury late in the first quarter.
Vick, who was 5-of-7 for 49 yards before the injury, did not return to the game. His status pending an MRI was uncertain post-game.
Kevin Kolb, the quarterback who was supposed to replace McNabb until Vick emerged two weeks ago, was back under center.
Kolb used a short passing game to move the Eagles' offense. He completed 22-of-35 passes for 201 yards, but 12 of his completions went to either running back LeSean McCoy or fullback Owen Schmitt.